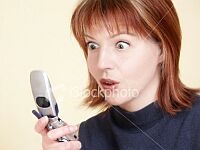 Hell! These gadgets can hurt someone emotionally too. Now, this is something humiliating and ridiculous. A woman named Katy Tanner, working as a sales assistant with Blue Banana, a body-piercing and jewelry shop, was shunted out from her job through a text message that read, "We will not require your services anymore…Thank you for your time with us."
She claimed that she was having a migraine and it wasn't the proper way to fire her via an SMS. If we hear of the senior staff members of the Blue Banana, they say that SMS is the proper channel to keep in touch with the youth employees.
This really doesn't seem justified to me. Anyways, you guys take care and do inform your boss before planning a leave without notice.
Image: Google