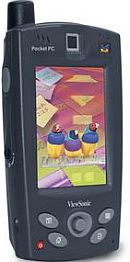 ViewSonic Corp. has dropped three new rugged Windows Mobile devices named V38r-06, V38r-07, and V38r-07a for usage in varied sectors such as retail, public safety, health care, and of course the military. All these handhelds offer secure data sway with 802.11b/g wireless communications, Bluetooth, bar code scanner, and pass the IP54 design standards to withstand extreme weather conditions.
The ViewSonic V38r comes equipped with a 3.5-inch touchscreen display with a resolution of 240 x 320, 520 MHz processor, SD slot, rechargeable Li-Ion battery, jog dial and four launch buttons to browse through the applications. Priced at $1,600.
The ViewSonic V38r-07 and the V38r-07a are the leading models and feature 802.11b/g wireless, Bluetooth, bar code scanner, 1.3-megapixel camera, fingerprint sensor, and GPS capability. The V38r-07a is Trade Agreement Act (TAA) acquiescent to support government sales. Priced at $1,899 and $1,999 respectively.
Via: Brighthand