While most of the makers are swamped with rejoicing over their extended support for Android platform's latest version, ViewSonic has taken a step further. Yes, the company has indeed swept most of us off our feet with the unleashing of their three brand new Ice Cream Sandwich powered Dual-SIM smartphones. Doesn't that now sound like a double whammy? Well, it's surely a great treat for those who seek a unique combination of convenient communication and speedy performance.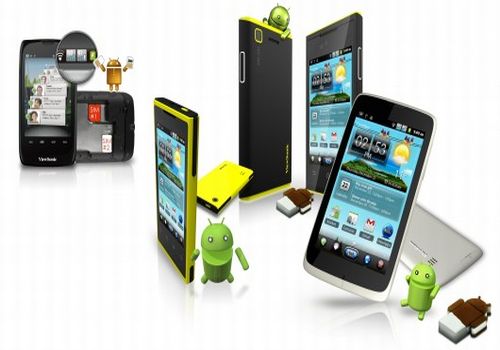 Showcased during this year's Mobile World Congress, the handsets make it simpler for users to manage two separate phones in one compact form factor. The stylish yet slim devices enable users to seamlessly stay connected and simplify their personal and professional communication needs. Based on Google's latest Android mobile operating platform, the dual-SIM smartphones come equipped with pre-installed Ignition Remote Access and PicSel Smart Office.
The latter, however, will allow users to edit Microsoft Word, Excel and PowerPoint documents with utmost ease. The sleek ViewSonic 4s features a huge 3.5″ capacitive touchscreen display that delivers amazing viewing sharpness and clarity. The need for clicking favorite moments in high resolution has been embedded as well. ViewSonic has beautifully incorporated a high-end 5 megapixel auto-focus camera whereas the powerful Bluetooth 2.1 wireless technology makes sharing easier.
Touted to be the world's first dual SIM smartphones with Android 4.0, they furthermore catch attention for its Qualcomm 800MHz processor. Some other attributes that are anticipated to enhance users' journey include 512MB of RAM, Wi-Fi connectivity and access to social networking sites.
The other dual SIM phone is ViewSonic 3GS which shares similarity with 4s model and integrates a 3.5" display. However, the 10.3mm thick handset differs by including a 3 megapixel camera for photography buffs. Wrapping up the portfolio by ViewSonic is ViewSonic 5e smartphone that indeed intrigues for its 5-inch WVGA screen and 8MP camera.
More like a phone cum tablet, the amazing 5e will too benefit from the feature-loaded Android 4.0 for users. Though the price tag is yet to be revealed for ViewSonic 3GS, the smartphone is anticipated to release in the very first quarter while 4s is expected to launch in the second quarter in Europe for around $499. The 5e, on the other hand, has been slated for third quarter for a price tag that reads under $599.
Via: GizMag