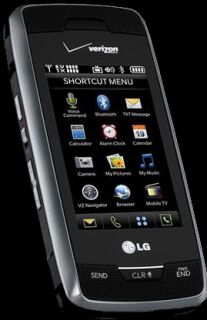 After debuting its high-featured camera phone, LG Viewty in UK, LG is coming up with LG Voyager mobile phone for Verizon Wireless, which gives users a choice on how they access the mobile phone's features.
Sleek, stylish and shiny, the LG Voyager mobile phone comes with the best services including a full HTML web browser, V-CAST capabilities including VCAST Mobile TV, VCAST Music, with the ability to play Mp3, WMA and unprotected AAC files, and plays VCAST Video. These multimedia capabilities are coupled high speed wireless broadband access, so that users can download music files fast and easy.

With the LG Voyager, Verizon Wireless customers would be able to purchase the hottest accessories like Bluetooth stereo speakers and headsets, designer phone cases and extended batteries, so that it can fir into their lifestyle. The LG Voyager has removable microSD memory card slot, which holds up to 8 Gigabyte of flash memory. The other features of the LG Voyager are:
1. Speakerphone
2. VZ Navigator
3. Picture, text, video and instant messaging
4. Bluetooth stereo for headsets and speakers
5. Built-in stereo speakers
6. 2.0 megapixel digital camera
7. Expandable microSD flash memory slot
Verizon is releasing the LG Voyager cell phone November 21, 2007 with an estimated retail price between $200-$400 US dollar.
Image: Laptop Logic