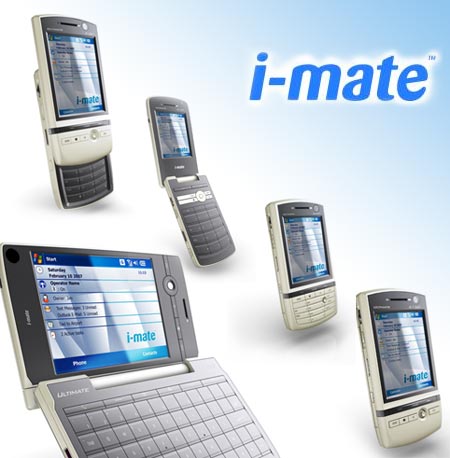 Conversation and calling over the Internet has improved drastically over the last few years. The Voice over Internet Protocol, the recently released Apple iPhone and several other tools and technologies have made online conversation affordable and easy to use. The latest in this field is the I-Mate.
The company introduced the Windows Mobile 6 phones with the HSUPA network. As of now, the company will release the first two models in the market: 6150 and 8150. Later on, around February, Ultimate 8502 and 9502 will join the group. These phones are indeed the ultimate in the Internet phone industry. Are you wondering why?

Here's why. The devices will be powered with 520 MHZ processors. The couple of newer models will have higher bandwidth when it comes to uploading/downloading. I think the best feature of these models is the theft proof management console. Just like any cell phone, these I-Mates are equipped with GPS systems, which will let the manufacturers track these devices if they are stolen.
An interesting fact about one of these models is the absence of keypad. One of them comes with a touch screen, very similar to the PDA that you carry in your pocket. Although the company has registered themselves in the U.S. in the past, they did have some problems. One of them being changing suppliers. These ultimate devices will cost you $600-800 once they go on sale. Just like a software CD Key, the I Mate phone can be unlocked online once you buy them. So, what are you waiting for? If you have the cash, I would say buy these cool phones.

Image Credit: Techshout