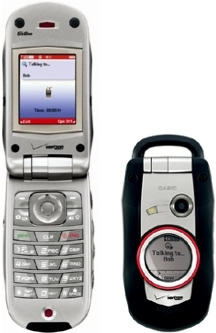 Verizon's Casio G'zOne Type-S clamshell has undergone a cosmetic change and is now dressed in powerful combo of black and silver (my fav, actually).
G'zOne is one the best rugged phones available out there that works underwater and looks great. This newly launched version supports push-to-talk too, other than that it's got VGA camera with flash, voice dialing, Bluetooth, speakerphone and of course, a sealed body with gaskets to brave the waters for up to 30 minutes.
If you have been looking for something that can withstand major jolts and water then you must get this one. It is available at Verizon for $80 with a 2-year contract.
Via: PhoneNews