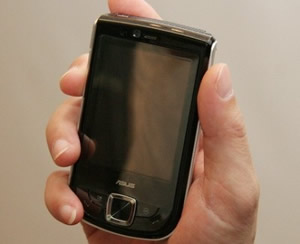 Target Consumers- Business executives
Should they buy it? Yes
Why?
The ASUS P565 is a stylish communicator with specs to match. The phone sports the Asus' tactile interface Glide. It is one of the most awaited phones.

Technical Specifications:
This GSM phone uses Windows Mobile 6.1 OS, and features 2.8″ VGA screen, 3-megapixel camera with autofocus, 256 MB ROM, 128 MB SDRAM and a microSD-slot for expansion. GPRS, EDGE, HSDPA, WiFi, 800 MHz Marvell Tavor Processor have also been penciled in. You can expect 3.5 hours on 3G and 5 hours on 2G for talk time and 150-200 hours of standby time.
Pricing & Availability:
Although the price has still not been announced, the release is rumored to be in October.
Source Just AMP