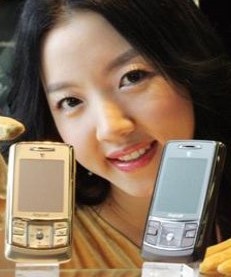 Samsung has released its successful model SCH-B500 in two new metallic colors. The original 'Magic Silver' version of SCH-B500 was an instant hit when it was released recently in and hence Samsung has decided to give more choice to its loyal consumers by adding two brand new metallic shades, 'Magic Gold' and 'Magic Brown'.
The reason for this make-over is supposed to be the fact that phones released in the Asian market presents a wide variety of color choice for the consumers. Samsung's belief that metallic look is preferred by users has also played a part in the new metallic make-over.
The Samsung SCH-B500 has a host of features including a 2 megapixel camera, Bluetooth connectivity, DMB and electronic dictionary.
The slider from Samsung has a 2.1-inch 256,000 color screen with a QVGA resolution, PictBridge and TV out support as well as audio and video playback capabilities.
Apart from these features, the phone boasts of 3.5 hours of talk time or 165 hours on standby.