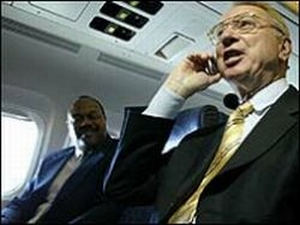 U.S. Federal Communications Commission Chairman Kevin Martin has said that he will ask the commission to retain ban on mobile phone usage during airplane flights.
The investigation to lift airplane cell phone ban comes from the ground-based wireless carriers, who say that the calls could interfere with their networks.
The FCC actions to place a ban on mobile phones initiated on December 2004 was previously supported by thousands of passengers with positive comments to impose ban:
A Virginia man wrote to the commission in May:
To add to the already high noise level within the aircraft by allowing the use of cell phones while in flight is absurd, in my opinion.
An email received on last April:
We are currently experiencing an extreme loss of civility in our country, and cell phones are part of the problem.
Air travel is painful enough without having to listen to one or more cell phone conversations while you're a captive audience.
However, FCC's decision can affect some changes in rules at the U.S. Federal Aviation Administration who is also scrutinizing aircraft's navigation probe but the agency is still in the process to examine Kevin Martin's suggestion.
Via: Pcworld