Designer Joy Yang has conceptualized a Digital Communication Hub, called Tree Talk. It is a large tree-like design that can centralize a number of digital phones in various knobs on multiple boughs. The design is an ideal equipment to join together many phones of a household. Every knob on Tree Talk individually works as a separate phone. The rounded knob features a display, keypad, volume control, microphone and speaker. The knob can be taken from the stand to make a call or receive a call. Once docked on the stand, the knob will gather the power required for its functioning.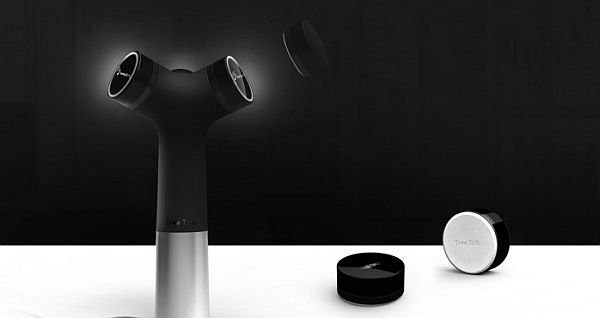 Once realized, the tool will be a fantastic device. Placing Tree Talk in your living room, you can make and receive calls from all phones in your house. You won't have to rush to each phone once it is rung up. Moreover, the device will add further into the splendor of your living room, because it has an eye-catching design. The concept design of Tree Talk is in white and black colors; i.e. the base in white and the boughs and the rest part in black. The knobs also come in black and white colors.
Each knob sports all major components a phone should have. The rounded shape carries a microphone in the bottom to grab your voice. At the top, there is a speaker. The front part of the knob is its display, which shows the numbers that calls you or you dial to make a call. According to its designer, the incoming call number will run across the interface. To dial a number, you are expected to rotate the top cap as it you did it on an old land phone.
Once finished dialing, you can just press a button to make calls. There is also a nice facility to end the call. Volume controlling is also an effortless job on the device. Each knob of Tree Talk is with the same features. It means you get several phones on a single communication hub. Of course, Mr. Yang's design is a revolutionary attempt. It is highly useful in a time people wish to enjoy maximum simplicity and comfort in life. Possibly, the device may also be capable to combine all kinds of phones along with land lines in a house.
Hope some innovative technology maker will be trying to realize the ultimate digital communication hub. Sooner or later, we can expect the device to hit stores. With its realization, managing multiple phones will be a nice job in your living room. The phones can be connected with the hub either via Bluetooth or a cable. Designer of the tool has missed to reveal what technology will connect phones with Tree Talk. Maybe product developers will have to find out a way to connect phones and transfer voice calls into the device and its knobs.
Via: Coroflot