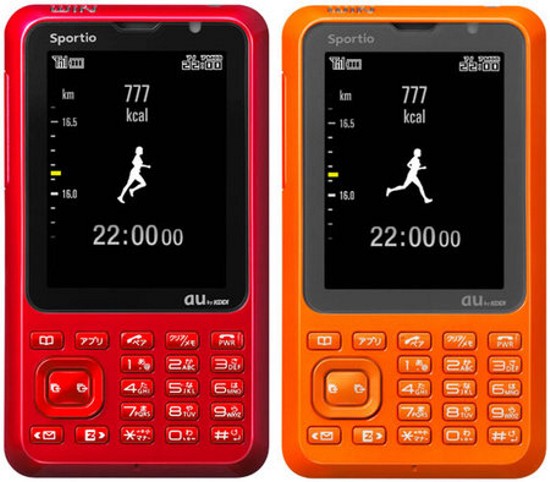 The cell phones are no longer a device made for communication, internet access, listening music, and clicking pictures only. These small gadgets are ready to serve you in different ways. Now you can keep an eye on your daily workout with the help of your phone. Toshiba Sportio, the latest addition to Japanese carrier KDDi's lineup, has been created for the people who are keen on exercising. The Sportio, weighing 86 grams and measuring 93 x 52 x 13.7 millimeters, looks a bit thick. It is funny that a handset created with the intention of keeping users in shape, looks fat.
Anyway, Toshiba Sportio has a motion sensor counts the calories burned in a workout and using GPS, it plots your jogging route along with average speed and running logs.
Coming to the specs, the phone has a 2.2 inch display with 240 x 320 pixels, mobile TV capabilities, a 2 Megapixel camera, music and video players, Bluetooth, web browser and email functions. It has 5 options for your handset color such as orange, white, black, red and green. The phone will be available for purchase starting mid-June in Japan only.
via: InventorSpot