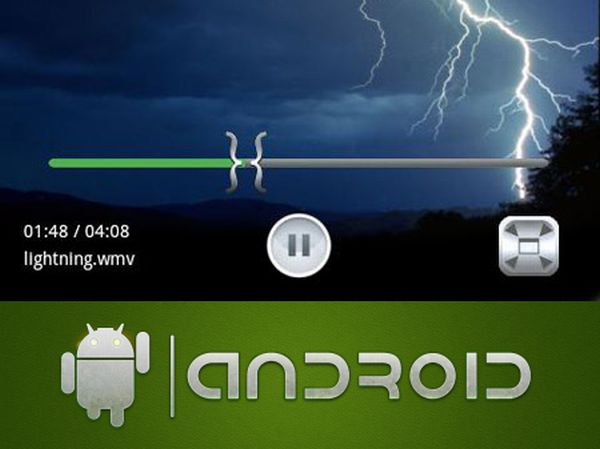 Android operating system is one of the most advanced revolutionary inventions made by Google Inc. Unlike most of the mobile operating systems, this is more users friendly. A user can easily customize its apps. This is the reason, why today most of the smart phones run on this operating system. It is the coolest operating system that operates a number of apps. It has the maximum number of apps. It has separate applications for music, calendar, display, editing and viewing docs, games, camera, etc. You can buy any number of applications online from the android store. You may even go for some free apps over the internet. These apps have their own advantage. Just download it to your phone and enjoy the app without paying even a single cent from your pocket. Out of all apps available in the market, music apps are demanded the most. They are sold in the market just like hot cakes. Many people have fascination for music. Their passion for music has lead to the development of hundreds of apps on internet. All these apps are dedicated totally to music. We are here going to mention some of the coolest and most useful music apps. These are paid apps. The benefit of going for paid version is that you are saved from various Trojans, Virus, key-loggers, etc. Most of the free stuff over internet is infected with the harmful stuff. To help you in finding the best stuff at the most economical rate, we have listed top seven music apps. These are as below:
1. PowerAMP Music Player
Price: $4.99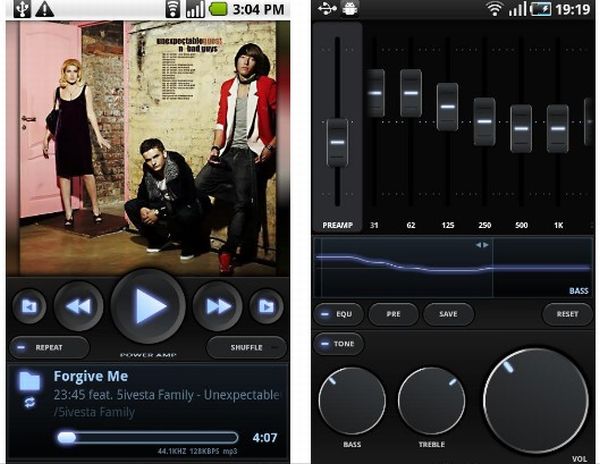 PowerAMP is a paid music player developed for Android 2.1 or higher version. It plays almost all audio formats like mp3, mp4 or m4a, ogg, wma, flac, wav, ape, wv, tta, etc. It has a ten band graphical equalizer that has a number of adjustments. It has the ability to play songs from folders and even from system media library. You may also easily lock your screen to avoid any kind of unauthorized unwanted interference. This is the added feature of this player. With lots of visual themes, it is one of the coolest players for your phone. You can even customize these themes as per your choice.
USP: It is fully loaded with all the features a person expects to be in a media player. It can play music, set your favorite tracks as ringtones, add playlists, etc.
Pros: This is one of the best fully featured music players for your phone or any android enabled device. It is easy to use and very innovative music media player. The customize equalizer available in it is the best feature. It has a number of attractive themes that give it a cool look. All these themes have different skins. You can set any skin that suits you the most.
2. UberMusic
Price: $3.49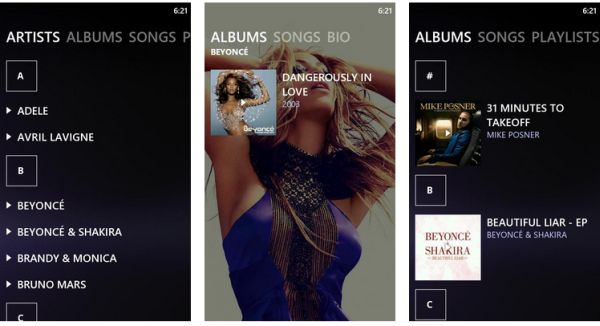 UberMusic is highly user friendly music player which is developed for your Android OS. It has a number of skins. These can be downloaded very easily from the internet. These skins give it a creative look. You can set the theme according to your mood and can also play music accordingly.
USP: It has a true shuffle mode. Unlike other players, it does not play the same track twice. This is the best thing about this player.
Pros: The sound clarity of this player is very good. It has the best voice quality. This player is very user friendly music player. It has an excellent interface and a number of useful widgets. It can be customized totally as per the needs of the user. It has six different skins for different widgets. You can also get the trial version of this player for 15 days. It has a unique lock feature that can avoid any kind of unwanted access to your music files.
3. PlayerPro Music Player
Price: $4.99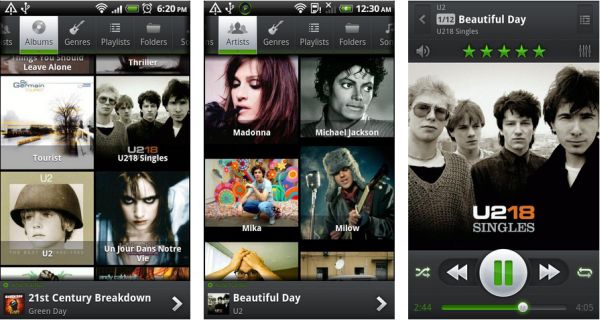 It is an advanced audio and video player designed for Android 2.x devices. It can browse and play your favorite music files by albums, artists, genres, songs, playlist, folders and even album artists. You can also customize the layout of this player very easily. There are a number of audio effects for your device in this player. It plays almost all the formats very easily. It has a lock screen feature with many options. It also has voice recognition to play the song you want to listen.
USP: The best feature of this player is its unique sleep mode. You need not worry that your phone battery will exhaust after some time. The player automatically goes on sleep mode to prevent the battery life of your android device.
Pros: This player has various advanced features. One useful feature is shake it features. In this function, you can easily change the song by just shaking the phone. It supports headset and accordingly customize itself. As the player can play all the file formats, so you need not worry of downloading different players for different formats.
4. MixZing Music Player
Price: $4.99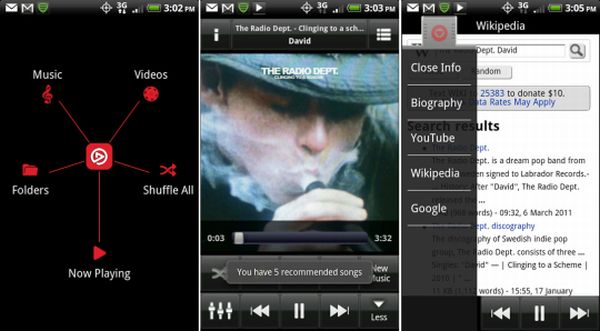 MixZing Music Player is the most advanced music player available in the market. It is a very intelligent player too. It understands what user wants. Accordingly, it automatically fills your queue of all tracks with recommended songs. It works like iTunes Genius, but is much better than it. It takes both passive as well as active feedback from you. This way it improves itself and accordingly builds the playlist. It can download the missing album art and display it later. It also has a recommendation system that recommends the user about new songs available on the internet.
USP: The way it ques the audio files and creates playlist is awesome. It performs this task in a much better way than the Genius of iTunes. This is the most advanced feature of this application and makes it the best bet.
Pros: This app is very easy to use app that adapts itself according to the needs and the requirements of the users. It also has a recommendation system that makes it different than other such apps available in the market. You may get new album covers for your favorite albums without any hassle with this player. It will download your favorite tracks at the time when it finds the phone in static mode or when the connectivity and the signal strength is the best.
5. Shazam Encore
Price: $4.99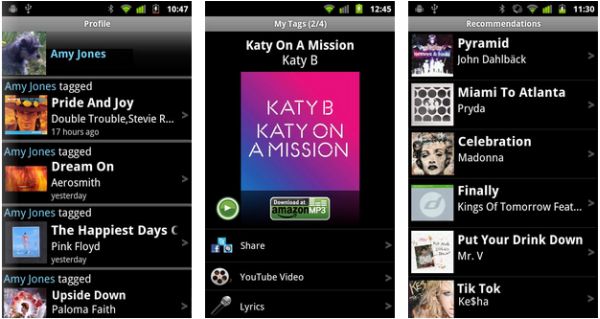 If you believe in magic, then Shazam Encore is for you. It provides the quickest and easiest way to discover music. It has a unique voice recognition technology that can identify any track playing around you. You have to just hold your phone up to the music and the rest of the job will be performed by this player. It also has saved and listen again option. You can also buy tracks online through Amazon MP3. It can also play YouTube videos very easily. The best thing is that you can share your favorite tracks with your friends on Facebook and Twitter. This is totally a fun loving experience to have this player with you. It will help you in connecting yourself with your friends and keeping a track on what they are listening.
USP: This player helps in sharing your views on social networking websites with your friends. You may tag your favorite tracks online with this app. You can make them know what you are listening and can also keep a track on what are they listening to. This way, it helps you in remaining connected with your near and dear ones.
Pros: This unique and easy to use media player helps you in learning the lyrics of your favorite tracks. You can also discover new music from your favorite friends tag chart. It helps you in tagging some of the favorite TV shows and commercials. With this help, any person can easily watch the live streaming on YouTube. It also has a great feature to identify your favorite tracks while listening it. You can also find out when your favorite pop star is on tour in your city and can buy concert tickets online. This way, it is not just a player but a complete market of music.
6. JW Player 2.0
Price: $2.37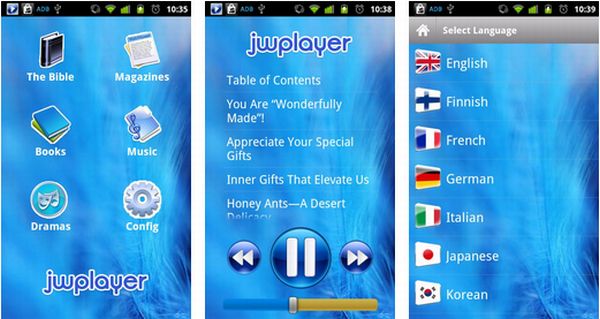 JW Player is basically a podcast player. It is specially designed to listen to the content available on your favorite site of jw. It is a very good help and tool for all Jehovah's Witnesses. With this player, you can easily listen to the last articles of the Watchtower and Awake. You can listen to the preaching of the Bible. It can play music, dramas and some books on your Android phone very easily. The best thing is that you will not have to download or save any file. The complete content is directly streaming from the web.
USP: It plays podcast files that were very difficult to play earlier. All these files are played in more than 20 languages of the world. This is the best thing about this player.
Pros: This is a full featured player that has an option for more than 20 languages of the world. People using this app have find it very useful. This actually makes the complete app very user friendly app. You may listen to the files online without actually downloading them on your device. You need not worry of having empty space in your memory card. It does not uses much of your card memory.
7. WavPlayer
Price: $0.99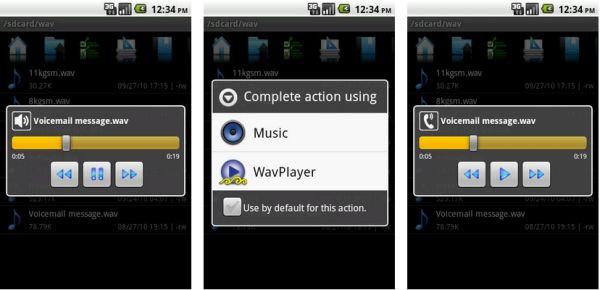 People, who want to listen to some voice mails coming through emails, find it very difficult to do so. Most of the voice mails are in wav format. This audio file format cannot be played easily by most of the players available in the market. To help you here, we have brought wav player. This is a very lightweight application. It does not occupy much of the memory of your card. It can play a number of other media file formats too. It can support file formats like 3gp, aiff, asf, au, m4a, m4b, ogg/vorbis, qcp, ra, rm, shn ( i.e., Shorten file format), wav, wma, etc. There are many other file formats too that can be played with this player. This makes it a universal media player.
USP: WavPlayer is basically designed to be a very lightweight application. It does not impact the microprocessor of your device. Once you start some other task, it will automatically stop or minimize and free all system resources. This way, it relieves your device from getting hanged in between.
Pros: It has great features like forward, rewind, pause, etc. You may move the playing files from or to the memory card with this player. It is a very easy to use simple media file player. It has a number of merits. It can play a number of file formats as per your needs. You can listen to the files coming on emails directly with this player without actually downloading them to your memory card. This way, you can save the space on your card. You need not worry about the quality of the sound. Sound quality of this player is the best in the market.
Music lovers will definitely find these apps very useful. These apps guide them what to play and how to play. These are very intelligent. There are apps that also suggest which file to download. They can even download the file and album cover themselves. These apps can play a number of file formats. With a single player, you can listen to the complete music world. They also help you in staying connected with your near and dear ones. But, it is also true that each player has some limitations. You can go for a player that suits you the most. You may go for trial versions of these players to have a feel of them. After trying such players, go for the one that matches your requirements the most.