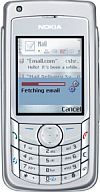 How about having free VoIP programs for your mobile phone? Well, who doesn't want to enjoy free or cheaper calls? Here are three free VoIP programs for your handsets:
-Jajah Mobile: The seamless version is available for some Symbian phones. If you don't have Symbian phone. Don't worry as Jajah Mobile has been made accessible to number of phones that support Java. Check out for compatibility.
–iSkoot: A wonderful way to save money on international calls. The P2P application will sooner or later offer access to Skype and Google talk. Working with Skype only at the moment. It support many phones from Nikia, Sony Ericsson, Palm, and Motorola.
–ROK Viper: It allows you to make VoIP calls from your mobile phone. But, it's not as impressive as the other two since you will need broadband and PC.
Via: RedFerret