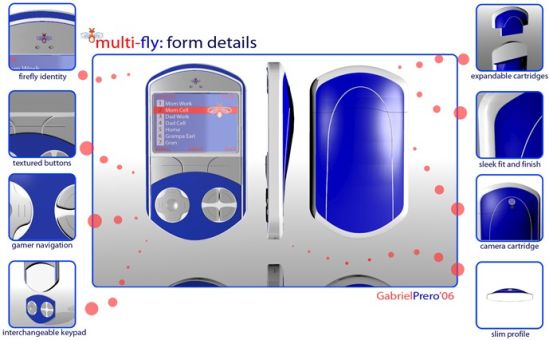 To some extent, technology has changed the moral fabric of society. Sudden exposure to a multitude of techno-devices that kids barely knew how to handle resulted in more harm than good but the rise of consumerism indicates that now every child wants to have their own communication toy. The need for a child-friendly device is at its all-time prime and thankfully, now it can be taken care of. This project for Industrial Design IV has, therefore, brought forward a Multi-fly design.
With all the features that kids would want, right from it being Razr-thin and firefly look-alike to gaming options and interchangeable cartridges, the phone has limited functions thereby reducing misuse. Parental concern for keeping in touch has been taken care of without giving the child an option of dirty play. Designed as an 18-month phone, this one serves the short term function of safety before the child grows up and wants to have an adult phone of his own!
Parents who thought they would pacify their kids with barbies and trucks should stop their wishful thinking, for sooner than you know they'd be asking for a mobile and this one right here seems like the best bet!
Via: gprero