PDA phones are the rage today. They provide office-goers the convenience of carrying an all-in-one device in their pockets. And these devices are hassle-free, making them a necessity in today's corporate needs-based world where anything that is redundant and obsolete is done away with. A reflection of this attitude is the attempt of top PDA companies to incorporate every known useful feature into their mobile phones.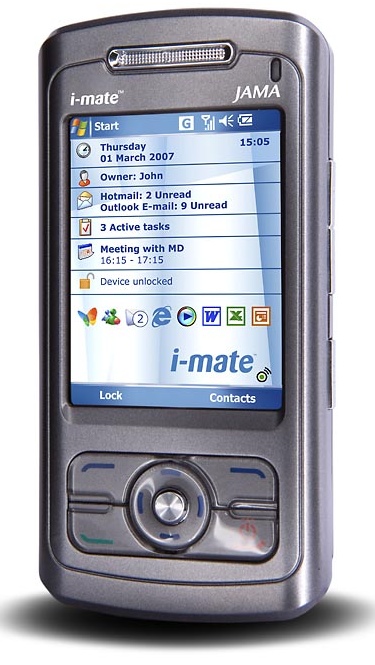 i-mate has always been associated with top-notch PDA phones and to strengthen their hold in the PDA market, they have unveiled the JAMA PDA Phone.
The JAMA runs the Windows Mobile 5 Operating System and boasts of features, which have become an integral part of PDA phones, such as a 2MP Camera, Bluetooth, Infrared, etc. Additionally, this phone sports a 2.4 QVGA LCD touch-screen. The JAMA is powered by a Samsung 300MHz processor and includes 128MB ROM and 64RAM. For those who wish to have an extended memory, there is a microSD card slot to boot.
However, the big question is how the phone would stand tall amidst other PDA phones that run the Windows Mobile 6 Operating System.
Via: iTECH