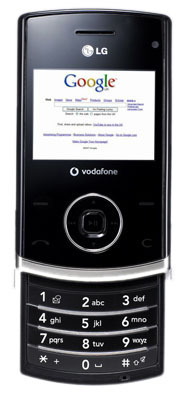 LG Electronics is launching the KU-580 3G slider mobile phone in Europe. The keyword for this phone is google. This phone comes fully loaded with all sorts of google applications. You name it you've got it! Be it the trademark google serach or the in-vogue gmail or for that matter google maps, this phone has all of 'em loaded and raring to go.
The LG KU-580 looks like a LG's popular Chocolate phone but it is quite larger, sporting a 2 inch wide LCD for a better view of Google's web properties. The web is accessed through a fast 3G connection. The LG KU-58 comes with a 2 megapixel camera and an FM tuner. It even also allows you to play your MP3 through Bluetooth stereo to headphones or speakers.
The launch date of the phone in Europe is still not confirmed. Currently, however, the LG KU-580 Google phone is available in Italy and France on Vodafone.
Image Credit: IT Tech News
Via: IT Tech News