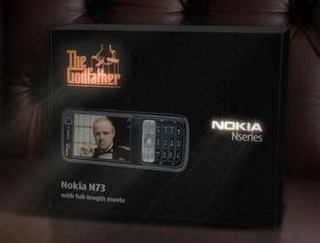 This new Smartphone by Nokia– The GodFather Edition of N73 has now been made public! This unusual yet classy smartphone carries a memory card enclosing the full movie-'The Godfather'. Wow to watch this superb movie and that too on Nokia N73 would be like a dream come true.
This one is going to create waves for the excellent reputation that Nokia bears.
The Nokia N73 Music Edition incorporates a 2 GB memory card; stores a hell lot of information of which you can even think of. This smartphone can be termed as a 'multimedia delight'. The integrated stereo speakers add an extra zing to your out of the world sound experience. It also gets fully synchronized with the Windows Media Player for that ergonomics accountability. It shows off a 3.2 megapixel camera with Carl Zeiss optical lenses and autofocus. The Nokia N73 Music Edition speaks a lot for Nokia and is definitely here to stay.
Via: About-electronics