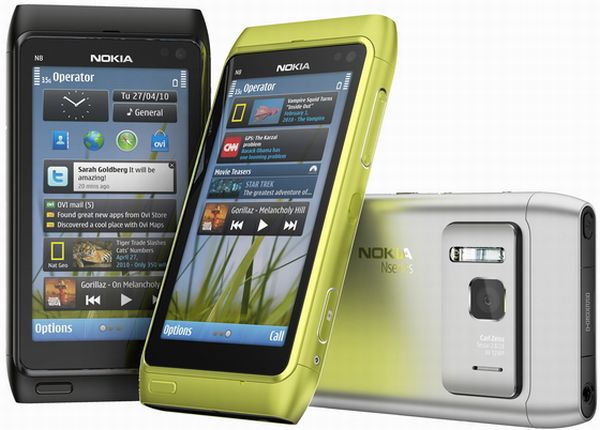 The release of Nokia's Symbian Belle update is an added bonus for all the users of the Nokia N8. Although the newer Nokia phones like N8, E7, C7 and E6 will be in the market along with this new update, existing users of Nokia N8 would have to download the Symbian Belle update on their smart phones from Nokia's website without paying any charges. While there is videos available on the internet that show how this is done, these videos do not have an audio track and thus users need to try and follow the installation process as it is shown. Let's take a look at the step by step procedure for installing the Symbian belle update on your Nokia N8.
Difficulty level: – Easy (this procedure is very simple and users with basic knowledge of using the computer and Nokia N8 phone can accomplish this task)
Time Required: – 10 minutes
Resources Required:-
Nokia N8 smart phone
Computer or laptop
Nokia OVI suite (latest version, available to users for download from the official Nokia website.)
Navifirm+ 1.3 software (needs to be downloaded)
Phoenix Service Software v 2011.14.004.45945 (needs to be downloaded)
Symbian Belle Firmware files (needs to be downloaded)
Instructions:-
Step 1: First download the "Navifirm+1.3″ software, this would need to be uncompressed.
Step 2: In downloads folder, locate the Navifirm software and then run it.
Step 3: Now select the option that says" Production-External".
Step 4: Now choose option" Nokia-N8 (RM-596)" and then select"v22.014".
Step 5: After that choose a product code for your phone.
Step 6: Now you would have to download the files on to your computers desktop.
Step 7: Once the files are downloaded, make a new folder called "RM-596" and then transfer the downloaded files to this new folder. (Note: – if you are on win XP, you would have to move the folder to (C:Program filesNokiaPhoenixProducts) After following the given paths (: x86-C/Program Files/Nokia/Phoenix/Products/RM-596; x64-C/Program Files(x86)/Nokia/Phoenix/Products/RM-596).
Step 8: After transferring the files, you have to extract the "Symbian Belle" RAR file to your computer desktop. This step would require you to enter a password (orvvan + mohamad 79).
Step 9: Check you smart phone to see if you are connected to the "Nokia Ovi" suite mode, if yes, you would have to exit the "Ovi suite" before proceeding further.
Step 10: Use a USB cable to connect computer to your smart phone.
Step 11: Now access the menu options, select "Settings", then select "Connectivity".
Step 12: In the "connectivity option", select the "USB" and then click "Nokia Ovi suite" option.
Step 13: Once you finish these steps connect your smart phone to the computer using a USB cable.
Step 14: You now need to follow the instructions you will see on the screen in order to complete the setup procedure and access the "Ovi Suite".
Step 15: If you're smart phone is connected, you would see a message that states "Nokia N8 Connected" at the bottom.
Step 16: Now you need to disconnect the phone from your computer, making sure that you exit the "Ovi suite" as well (ensure that this is done from the background as well).
Step 17: Now you need disable antivirus or security software on the computer, before you can install the Phoenix Service software.
Step 18: Once the Phoenix software is installed, reconnect your smart phone to the computer.
Step 19: Now you need to select Open Product. Once this is done, a new window appears. Select" RM-596" and "Firmware Update".
Step 20: Once the new window opens, you will see a box with three small dots, click the box. Now you need to choose a product code for your phone. Once that is done you need to click on ok.
This now completes the process of setting up Symbian belle update on your Nokia N8 Smart phone.
Frequently Asked Questions:-
Can you get back to Symbian Anna after updating to Symbian Belle? Yes you can do that.
After upgrading to Symbian Belle, I cannot connect to Nokia ovi suite mode, to wi-fi or 3G, What should I do? Try restoring your phone from a backup or try restoring factory settings.
Quick Tips:-
While downloading the update, if you do find the process confusing, it is advisable to stop as you may end up ruining your phone. This may be the result of some error on your part that can ruin your phone. Let's look at how to update Symbian Belle on a Nokia N8 so that you don't face any technical problem.
There have been certain issues that have been raised by users regarding stability issues about updating of Symbian Belle. This has been caused by a few users updating a leaked version of the software.
Users have also complained that some of the previous glitches and bugs like games not installing correctly, java apps glitches, and phones getting locked and vanishing dialer persist.