Spot has come up with a global cell phone that is powered by 100 percent satellite technology. The phone is hence aptly called the Spot Global Phone. Your regular cell phone service provider may not offer their services in far-off regions and unreachable places, but this Spot phone does. You would not be disconnected almost anywhere in the world if you are using this phone. So, it is good for usage by frequent travelers, trekkers, sailors and people who keep venturing into unknown locations.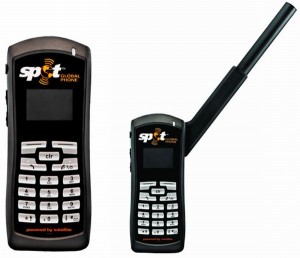 This phone comes with a hefty price tag of around $500, with the starting $25 monthly plan that provides a 10-minute talk time. But, the price would still look competitively justified if you consider this candy bar-style phone's satellite connectivity and not just its hardware design. It is one of the smallest and lightest handsets that would give you a crystal clear voice quality. You can opt for a data kit if you wish to have data connectivity to access the Internet and send e-mails. This global cell phone has a lithium-ion battery for a longer life. The battery would give you 36 hours on standby and 4 hours of talk time. Also, you can get a local number on this phone after taking the subscription.
The Spot Global Phone additionally allows direct access to the GEOS International Emergency Response Coordination Center on dialing 911. This handset can handle speeds of up to 28 kbps in order to support compressed data, calls and SMSs. You will never miss any connection when unavailable as this phone gives you an easy voicemail access. It can also receive 35-character text messages from your connections. Its calling features include user-configurable ringtones, any key answer and standard international dialing. The display features of this global phone include a 4-line, 12-character LCD, along with battery, volume and signal indicators.
You will be able to track all dialed, received and missed calls in its call history. The phone also has a 99-entry internal address book. Additionally, you would be able to configure its call timers. There is a keypad lock and security lock code in this cell phone, as well as a minute alert to help you manage costs. If you have a higher usage, you can get varied plans for this handset. So, there are affordable options once you plan to avail its exclusive satellite power service.