Spice Popkorn M-9000 is an entry level, dual-SIM mobile phone that comes with laudable features and accessories. The handset has sufficient attributes to satisfy mobile admirers who expect decorous communication and entertainment facilities. Its affordable price tag suits all sorts of buyers. The device allows users to connect personal as well as professional networks with its dual-SIM capability. It also boosts an appealing design with stylish accents. A casual glance on its features would help you to understand more about this handset's capability and compatibility.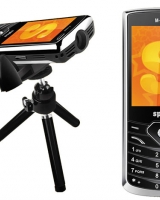 Performance
Spice M-9000's Li-Ion battery delivers a convincing performance at a rated capacity of 1200 mAh. Literally, it could dispatch a talk period of up to 3.5 hours and lasts up to 300 hours on the standby mode. Transfer of data packets is quite laudable as the device has Bluetooth and USB features. The pocket projector enthralls us with its appreciable quality. Analog TV too performs well with its convincing quality; however, don't expect High Definition clarity.
Features
Spice Popkorn M-9000 possesses a TFT display screen that has the capacity to show 256k colors vivaciously. The resolution of this display screen is 240 x 320 pixels with a pixel density of 169 ppi. The highlight of M-9000 is its projector. To be precise, the device entitles a pocket projector that lets users to view images, videos, presentations, etc., on a screen. Incorporating this amazing technology on this handset has helped users to view documents on a large screen and so, there is no necessity to squint at their handset's tiny screen. As the device is compatible with sophisticated technologies like GPRS and EDGE, accessing internet is a child's play.
Regarding the multimedia features, Spice M-9000 features a 3.2 MP primary camera that could capture images in the resolution of 2048 x 1536 pixels. This camera could record videos as well at 15 fps. Additional options like night vision, continuous shot, digital zoom and brightness adjustment enthrall users with better imaging experience. In fact, this primary camera could be utilized as a web camera too when connected with personal computers. Moving on to the audio entertainment, this handset boosts a FM radio with recording option as well. Users can enjoy an eminent audio experience through its convincing MP3 player. In addition, this device displays videos in better quality with its video player. It supports the customary file formats like MP4, AVI, FLV, 3GP, etc., to mention a few. Inclusion of a loudspeaker is highly appreciable. Users can operate this device as a remote control for personal computers. Spice M-9000 keep the users engaged with its Java enabled games.
In order to point out important features while making presentations, the handset comes along with a laser pointer. Another highlight of this device is the presence of an analog TV with inbuilt antennae. Unfortunately, Spice M-9000 has a very little memory capacity of 87 MB; but, the device supports expandable memory of up to 16 GB through microSD cards. A standard Lithium-Ion battery delivers the necessary power for this handset.
Design
Spice Popkorn M-9000 flaunts a stylish alphanumeric keypad with a gem shaped D-pad. Belonging to the candy bar form-factor, this handset is quite bulky when compared to other entry level mobile phones; however, this device's extra-ordinary feature – pocket projector, requires sufficient space for efficient performance. On the front face, its QVGA display screen and stylish keypad cover the entire space, while the pocket project is designed on the upper face. As conventional, the 3.2 MP primary camera and the loudspeaker could be identified on the rear face. Keys for the volume rocker are designed on the left face.
Bottomline
Spice Popkorn M-9000 is undeniably a brilliant phone for the entry level buyers. In fact, its extra-ordinary features make it highly unique and distinct among other similar handsets. This device is highly suitable for professionals as well as for individuals who wish to utilize their handsets as an effective communication tool and also relish entertainment features at the comfort of their mobile phones.