Spice Mi-410 features a solid and eye-captivating design with amiable features. To mention, this handset was unveiled just a few quarters ago. With a large display screen, this benevolent model has been packed with mind-boggling attributes. Apart from the communicable options, users can enjoy a delightful mobile experience through the handset's sophisticated entertainment and multimedia features. The device is quoted for an affordable price tag. Meticulously developed with a rapid processor and graphics unit, Spice Mi-410 is destined to attract the contemporary smartphone buyers. Check out this handset's packaging brilliance on your own.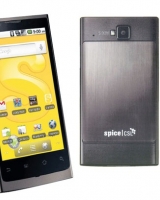 Performance
Spice Mi-410 allows rapid transfer of data files through the wired and wireless mediums. Its touchscreen works brilliantly without any glitches. Browsing internet is effortless and faster with its advanced technologies. With a rated capacity of 1400 mAh, its Li-Ion battery lasts for about 400 hours on the 2G network and about 380 hours in the 3G mode. The talk-period of the handset is approximated to 2.3 hours in 2G mode and up to 4 hours in 3G mode. Overall, Spice Mi-410 delivers a satisfying performance.
Features
Spice Mi-410 captivates everybody with its bigger display screen on the first instance itself. Technically, it flaunts a 4 inches TFT touchscreen with an amazing pixel density of about 232 ppi. This capacitive touchscreen could display 256K vibrant colors. With a resolution of 480 x 800 pixels, users can enjoy a typical home entertainment system through this screen. Developed to work with 2G and 3G networks, this device supports advanced technologies like GPRS, EDGE and Wi-Fi. The presence of pre-installed HTML browser with Adobe Flash, let users relish a joyful browsing experience on the move. This device also supports Java through MIDP emulator.
On the technical part, Spice Mi-410 runs on Android's Froyo Operating System, version 2.2. Fortunately, the device withholds a Scorpion processor with a rated frequency of 1 Ghz. On the other hand, a Qualcomm MSM8255 Snapdragon chip-set and an Adreno 205 aids the handset to perform dedicated programming tasks and graphical needs respectively. Comfortable features like accelerometer, compass, MMS, Push mail, etc., are customary. For the younger generation users, dedicated application like Picasa integration, maps, Youtube, G-talk, and social-networking integration keep them engaged always. A standard Lithium-Ion battery powers up this device for a laudable period.
Digging in the multimedia features, Spice Mi-410 sports a 5 MP primary camera with zooming options as well. Literally, this camera can capture high quality images in the resolution of 2592 x 1944 pixels. The presence of LED flashlight and Geo-tagging features amplify the imaging experience. It could also record motion images in the HD resolution of 720p at the frequency of 30 fps. In addition, the handset includes a front facing secondary 0.3 MP VGA camera which aids the video-calling facility. On the entertainment side, this device support FM radio with recording options as well. The presence of music and video players let users enjoy high quality contents on the move.
Features like 3.5 mm audio jack, MP3 ringtones, Bluetooth and micro-USB are customary in this handset. Fortunately, Spice Mi-410 possesses a sufficient internal memory of about 800 MB and supports expandable storage of up to 32 GB.
Design
Spice Mi-410 portrays a solid, sleek and a candy-bar's form-factor. The build quality of the handset is excellent with definite lines around the handset. Technically, this device measures 122 x 66 x 10 mm in dimensions and weighs 143 grams which is quite appreciable for its size. One of the most highlighted feature of this handset is its stereo loudspeakers which are brilliantly positioned on both the sides. Apart from the display screen, one could spot the secondary camera, earpiece and the microphone on the front face. The touch sensitive buttons for call handling and menu are present below the touchscreen. As conventional, the primary camera and the integrated flashlight are positioned in the rear panel. A secondary microphone can be spotted on the rear side. The port for connecting a headset is designed on the upper face for convenience.
Bottomline
Spice Mi-410 has got most of the sophisticated features that contemporary smartphones would pack in. Its affordable price tag and rapid processing speed are also quite convincing. Undeniably, Mi-420 is a better choice for the contemporary buyers.