Xperia X10 is the first smartphone with Android operating system, manufactured by Sony. The phone features a very large, four inches screen. The phone has a 1GHz Snapdragon chipset. The Android OS is optimized for the phone and integrates a lot of apps for social networking. So it is a great phone for people who use their smartphones for social networking like Facebook and Twitter. The touch screen employs capacitive technology like other high-end smartphones. The screen supports a resolution of 480×854 pixels. The phone also has an 8.1 megapixel camera. It has a unique LED indicator which blinks to indicate different type of activities on the phone.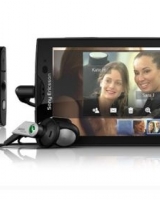 Performance
Unlike most of the smartphones, X10 offers an above average call quality. However, you would hear a lot of noise while talking on a crowded street. The phone has a decent battery that offers 425 hours of standby time over 3G network. The interface works very smooth and zooming in and scrolling is impressive indeed. The best feature of the phone is of course the screen but camera quality is not far behind.
Features
The phone has light and proximity sensor with a scratch proof glass.
It also has a 1000 MB of built in storage.
The phone runs on Android 1.6(Donut) and can be upgraded up to v2.3.
It also features a Adreno 200 GPU.
The phone can play most of the audio file types and supports WMV and MP4 for videos.
It has a Li-Po 1500 mAh battery that provides up to 10 hours of talk time over a 2G network. 
Design
Due to its massive 4-inch screen, the phone looks bulky. It is not possible to use the phone with one hand. A slight curve on the backside of the phone ensures a better grip. It is also somewhat uncomfortable to carry in the pocket. The screen is great with all saturated colors, especially blue. The capacitive touch screen also has a great touch response. However, the screen hardware does not support multi touch response.
X10 has a big menu button in the front for quick access to menu items. The plastic enclosure on the phone looks strong and durable.
Bottomline
If we look at the hardware of the phone, it is mind blowing especially the screen and the camera. The OS on the phone is pretty decent too as it is an altered Android used for better performance. It has a lot of social networking apps for networking buffs. Other features include 3G, WiFi and GPS. The only thing that lacks is the data retrieving system, which is a little slow. The problem seems to be in Timescape and Mediascape.