Sony Ericsson (now Sony) enjoyed great success with its Walkman series of phones some time back. However, the scenario has now changed completely and it is the Android phones, which are dominating the market. Sony Ericsson Zylo is an attempt by the company to revive its good old days by adding the social networking features and some other more recent widgets to its Walkman series phone. With Zylo, Sony is targeting audiophiles who eat music, drink music and sleep music. How much Zylo is able to stand to this promise, we'll find out below.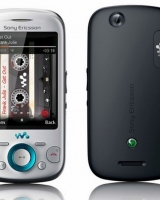 Performance
The interface is not that advanced and those of you who have got used to Android might even consider it as legacy interface. However, it covers the basics pretty well. It comes with the NetFront browser, media app and Youtube integrated to it. The accelerometer should help you in viewing the content in the landscape mode. There is no Facebook or Twitter integration to your contacts, a feature now available on almost every phone.
The call quality is average and you might not get expected clarity in noisy conditions. 3G ensures fast internet speed though lack of Wi-Fi might disappoint you when hotspots are available for access. The 3.2-megapixel camera captures videos at 640 x 480 resolution and 30 frames per second. The images and videos lack detail and offer just average quality. It comes with a fancy TrackID feature that helps you identify a song currently playing around you. You can watch movies in MPEG4, H.263 and H.264 formats. Its 1150mAh battery gives it a talk-time of 4 hours with GPRS and 3.5 hours with 3G, which is fairly good.
Features
Zylo is a mid-range slider phone from Sony that plays a large number of audio and video format files, including the FLAC (Free Lossless Audio Codec) that doesn't delete any detail from the audio and is supposed to give you more high-quality music. It's a stout 2.6-inches phone that offers HSPA 3G mobile internet, 3.2-megapixel camera, Youtube integration and widgets for Facebook and Twitter. It comes with Bluetooth and supports up to 16 GB with a microSD. The internal memory stands at meager 260 MB that might suffice till you buy an external one. You're left out with the Sony Ericsson's standard earphones that give nothing more than average sound quality. It comes with Google Maps but there is no GPS on board. It might seem like we're hitting hard on this phone but frankly speaking the phone is a combination of choices by Sony. Its 2.6-inch QVGA screen is vibrant and serves well even in brightness. The nine keys keyboard assist you in messaging and all conversations are displayed in a threaded view. Its 1150mAh battery should suffice for your daily multimedia needs.
Design
Zylo comes in what Sony calls it as "Chacha Silver". Sony distinguishes itself from the competition for producing sleek and stylish phones. While Zylo is nothing dazzling, it certainly scores for its looks. It is slightly curved at the back so that it rests comfortably in your palm. The dimensions of 103 x 52 x 11.5mm make it a fairly sturdy phone and certainly not a slim one. You"ll certainly feel it in your hand with a weight of 115g. Its 2.6-inch QVGA TFT display gives a resolution of 240 x 320 pixels and color-depth of up to 65,536 colors. Below the screen lies an array of differently shaped buttons with a circular D-pad in the center, which also functions as play/pause button for your music.
The ones below the Walkman logo are the softkeys and other keys serve the standard functions of receiving, cancelling calls, cancelling current operation with a mufti-function shortcut key on the left of Cancel button to run one of the apps running in the background. Sliding up the phone revels its keypad, which is pretty standard. The right edge has a volume rocker and a button that serves as camera shutter as well as shortcut key to launch Walkman app. The other side has the connector port to charge the phone as well as connect the standard Sony earphones that come with the package. The rear boards the 3.2-megapixel camera and SIM. MicroSD is placed with the battery on the back side.
Bottomline
Zylo suffers from some bad choices made by Sony for what to offer and what not. Still it serves as a pretty fair Walkman phone at a price of about Rs 6,300. Unfortunately, for Sony, Android has completely changed the landscape in mobile market. Users are now demanding more features at a lesser price and there are pretty cheap phones out there that give you much more than what Zylo promises. If you're a Sony fan and would definitely like to have one of the Walkman series phones in your hand with intuitive social networking widgets, you can go for Zylo. However, for all others, we will recommend to explore those Android phones in the market.