Be it tapering off the volume for lanky frames, thrusting in shinier displays or planking down more widgets for social networking access, Sony Ericsson has done it all. And if there's anything that literally showcases an interesting amalgamation of such attributes, then it's no other than Sony Ericsson Xperia mini pro. The new addition to Xperia's range has been designed aesthetically to render an enriched world of entertainment and multimedia without adding any bulk to your pocket. All set to raise the bid, the pint-sized smartphone not only raises brows for its compact form factor, but also for what it endows. Powered by Android v 2.3 OS (though, we don't know if it's upgradable) and 1GHz Snapdragon processor, the device promises to revamp your interaction without really digging a hole in your pocket.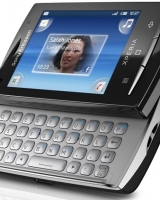 Performance
So, how does Xperia's mini pro model muddle through the performance status? Well, to be on the up and up, the smartphone delivers quite decent incoming voice call quality and sharper conversations for you to stay connected all throughout. But what may somewhat pique you up is the level of loudness and sharpness that the device renders. The same goes for the outgoing call quality, however the embedded mic manages to record some decently-powered tones. On the good side, the loudspeaker is really nice and makes out a good user experience for those who seek clear audio. Users may even appreciate the phone's super responsive user interface and speedy processor that makes things much faster and totally a cinch.
At the same time, around 5.66 hours of talk-time and 14 days of standby proffered by an 1200mAh battery is not too sure of flying high. So, make sure you always have a battery backup if juice-draining activities happen to consume most of your time. The camera quality, however, is quite astounding. By taking advantage of which, you won't only be seizing your moments in unprecedented clarity, but will also be enabled to record videos with high definition. Not to slip by, the four-row QWERTY keyboard has been well-made too, providing you with a seamless typing experience.
Features
Devised to harmonize well with your style status, Xperia mini pro comes equipped with an impressive 3-inch LED backlit LCD touchscreen and Sony Mobile Bravia Engine. The former, however, touts to render the most striking graphics and high resolution viewing of pictures and videos. What exactly does instill so much of confidence for that? Well, you will be experiencing high resolution of 320 x 480p and a powerful processor under the hood to get convinced there. With support for 3G with 7.2Mbps, you will be having faster access and speedy connectivity at the same time. The stylish and super portable mini pro also features a comfortable full four-row, slide out QWERTY keyboard for you to type in seamlessly and quickly.
What's more, there's a high-end 5 megapixel auto-focus camera for photography buffs whereas the integrated geo-tagging, LED flash and 720p video @ 30fps will only augment the experience. Outlined with sheer dedication, the smartphone lends support to Adobe Flash 10.3 and voice dialing for better functionality. What may intrigue even further are the handset's A-GPS, Wi-Fi, Bluetooth, standard 3.5mm jack, accelerometer and proximity sensors, 512MB RAM, and microSD for up to 32GB.
Design
Coming to Xperia mini pro's design, we must say Sony Ericsson really hammered away at carving some of its best. Although you many not find the body completely anorexic, but it still manages to look appealingly trimmed down. The back of the smartphone features an impressive rubberized matte finish for enhanced grip and a good 5MP camera to remind you of moments. The sides, however, have been lined with a faux chrome finish, which appears pretty interesting on the rear. But, we are not really sure if that will maintain the same look over the white version.
Designed sturdily with premium components, mini pro feels quite compact and lightweight in hands. For which, the maker chopped off the dimensions and brought it down to 92mm x 53mm x 18mm, leaving you with just 136g to carry. The slider device also boasts of its comfortable buttons arrangement and smooth edges. So whether you prefer compactness, fine-grained frames or stylish options, Xperia mini pro scores good marks almost everywhere.
Bottomline
To summarize, Xperia mini pro from Sony Ericsson is indeed an impressive smartphone for users seeking a distinct combination of performance, style and top-notch functionality. The Android Gingerbread-based handset beautifully merges an aesthetic appeal with sturdy hardware and software choices. With a playful, neat custom user interface and some really awesome features, mini pro sounds a great pick overall – after all, big things indeed come in small packages.