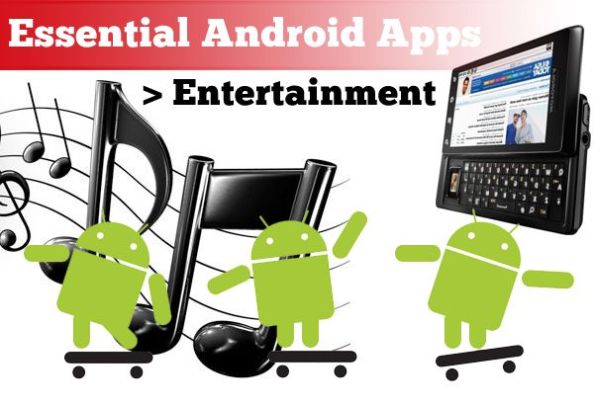 Android phones have been a revolution, they are not only being used to make calls or music, but also, are being used as entertainment devices that give you hours of nonstop entertainment. The key to transform your Android phone into an entertainment hub is installing the right applications. And to help you pick the right app, detailed here under are top ten Android apps that will convert your phone into a handy entertainment center.
Gigbox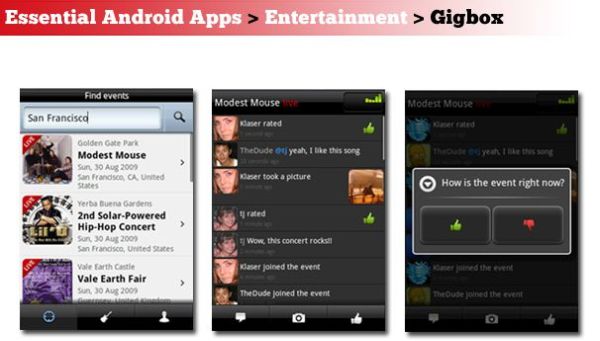 Gigbox is a free android application and is perfect for the people who like concerts. This application will notify the user when his favorite artist is going to perform in a concert. It uses the Google map service for providing direction to the venues. It also provides an option in which, you can share pictures and chat with the other concertgoers, for which you have to enter the application into the live mode.
Flixster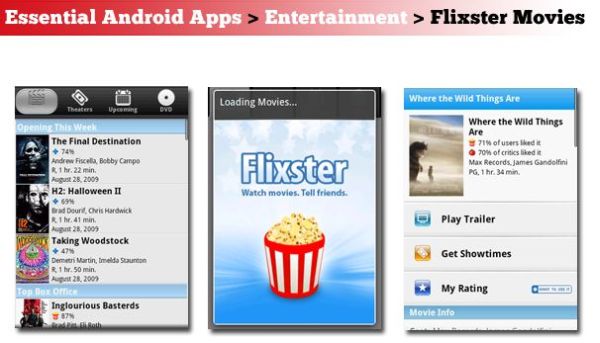 If you are in love with movies, then this is a must have application for you. On the basis of your current location, the application helps in locating the theaters nearest to you and also lists the most recent openings. It gives detailed information regarding the show times. It also gives an account of the IMDb rating about each movie and also lets you watch the trailers so that you can decide which movie you should watch. You can link it with your Facebook account and share your views and rating regarding the movie that you watched. In case, you are looking for DVD's, Flixster gives you all information regarding latest DVD releases.
Pandora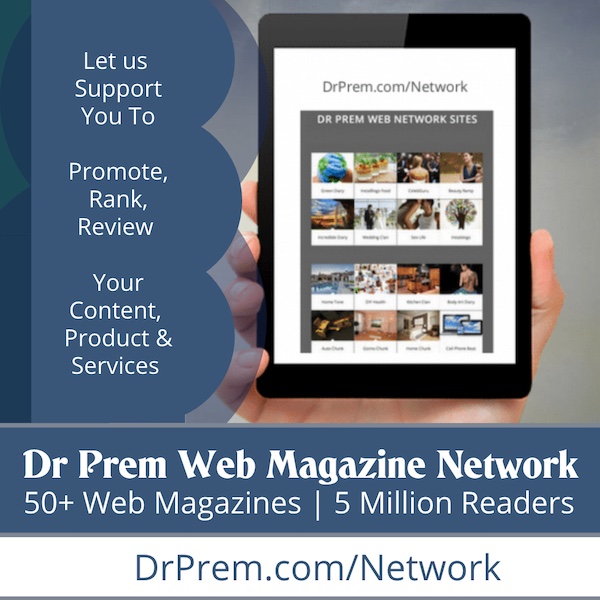 This is one of the newest additions in the Android app store. It is an application that is mostly preferred for internet radio. It has an option by which, you enter the name of an artist and the application will automatically generate a virtual radio station particularly customized to your taste.
Gmote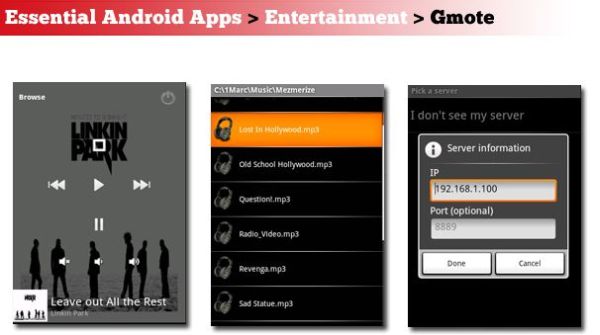 With this application you can turn your android phone into a remote control for your computer, which will give you access to play music and movies from a distance. It has all the controls that standard remote features like volume control, rewind, forward, play and pause. This application possesses an inbuilt browser that lets the user select what he has to play. This application also allows you to stream music and videos from your PC to your Android phone. In shorter terms it turns your android into a touch screen remote control.
Qik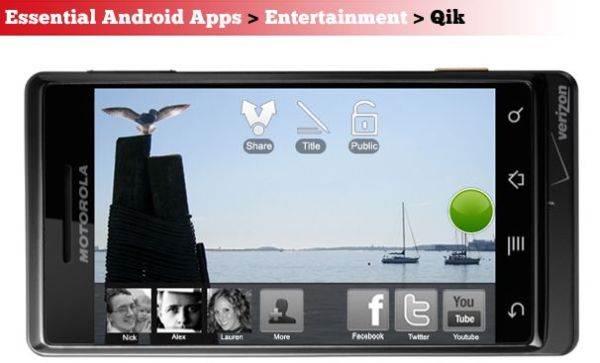 Qik is a handy application for streaming live video. The process takes just few minutes to set up your live and streaming videos. Qik has several setting for titling and privacy and gives you an option to share your moments on social networking sites. It is very easy to use, just make sure the network reception is good or the quality of the video gets jerky.
Twidroid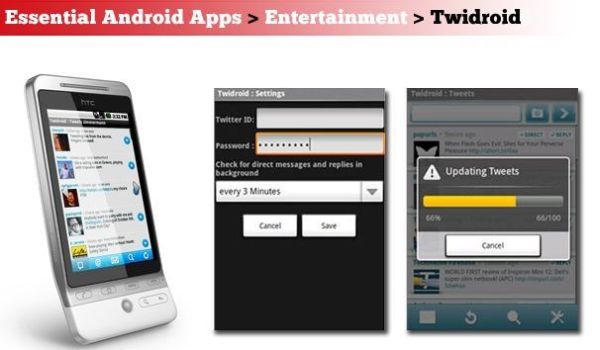 With Twiroid, the android users can access twitter or identi.ca on their android phones. It comes in free as well as paid application; the price for the paid version of this application is $4.89. This application can be downloaded from Android Market and other selected partner online stores across the globe. It is supports by all the phones running android 1.5 or above.
PicPush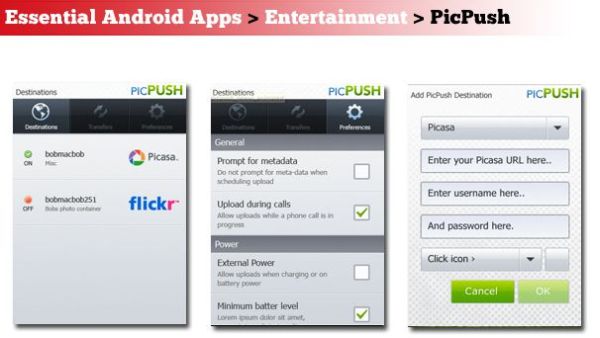 This application is very handy for sharing a same batch of photos on many accounts. It is ideal for those users who have more than one photo sharing accounts, as this application will automatically share pictures and videos on various services and hence save a lot of time. All the user needs to do is submit his various login details in this application.
Shazam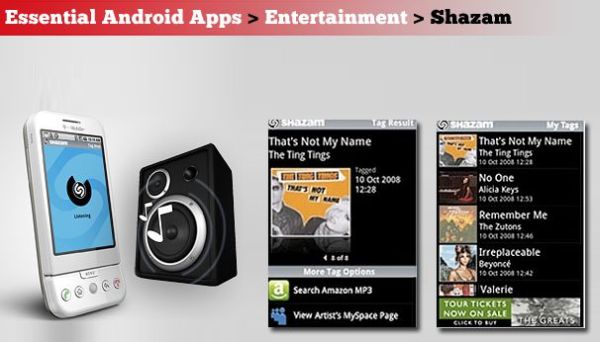 Shazam is a very unique application; it can provide you information about million of songs. All you need to do is point your Android phone towards the source of the music and this application will give information regarding that song including title, artist etc.
Picsay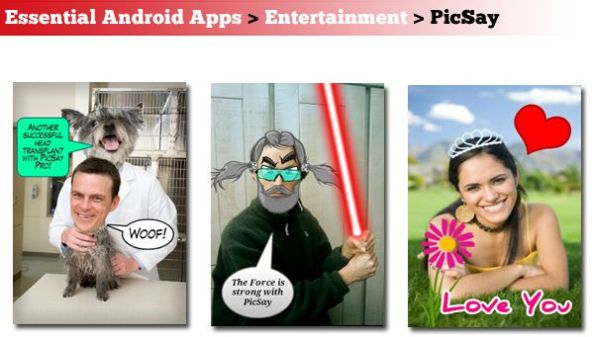 Most of the android phones come with good quality camera. This application can make it even better. It is a photo editor which gives you opportunity to modify your pictures and then share them with whomever you wish. It is very easy to manage application and one of the best applications your android phone can have. It is available in two versions, free as well as pro. The price of the pro version in Android market is around $1.99.
TuneWiki

Tunewiki is a great application and very effective too. It displays the lyrics of the song which you are listening on your Android phone. The application uses an internet base to pull the lyrics, so it has to be kept in mind that it may sometime have errors, but not always. This application also lets you share what you are listening to others.