This sleek and stylish mobile phone,  Sony Ericsson Mix Walkman has been designed keeping in mind the needs of the youngsters, who are just hooked to music and want to listen to their favorite music while on the go. This candy bar phone is loaded with several modern features and is a perfect device for modern generation. Some features that make Sony Ericsson Mix Walkman a great buy include impressive display, Wi-Fi support, Facebook and Twitter apps and customizable color bands.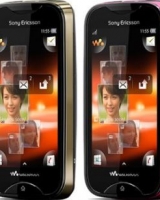 Performance
The sound of the earpiece of the Sony Ericsson Mix Walkman is quite loud but the voices are not very clear and they sometime appear slightly muffled. During the call, the voice is often accompanied by crackling sounds and unwanted noises. To sum it all, we can say that the in-call performance of this phone is nothing more than average. The 1000mAh battery used in this phone offers a talk time of 9 hours and 30 minutes and, in standby mode, it lasts for 465 hours. The battery life is definitely impressive. On a single charge, the Mix Walkman can play music for 13 hours, which is not a deal breaker because many older Walkman phones have a better life.
Features
Sony Ericsson Mix Walkman supports Quad-band GSM/GPRS and EDGE. This touch friendly, four with Walkman player features stereo speakers. It boasts of a 3.0″ touchscreen with WQVGA resolution. The 3.15 megapixel rear camera o this phone has fixed focus and it can be used to record video in QVGA format. The phone support Wi-Fi b/g connectivity. The stereo FM radio of this phone comes equipped with RDS and TrackID. Its microUSB port is of standard size and it can be used both for charging and data. The phone features Bluetooth connectivity too. The phone has microSD card slot as well and it could increase the memory of the phone to up to 32GB. The audio jack of this phone is 3.5mm compatible. This phone has accelerometer sensor for auto-rotate and it comes pre installed with social networking apps Facebook and Twitter. The color bands of this phone are customizable and the outer body is scratch resistant.
Design
The phone is 0.56 inches (14.3 millimeters) thick, which means that this phone is not the slimmest phone available in the market; however, you can carry it in your pocket. The Sony Ericsson Mix Walkman weighs just 3.1 ounces (88 grams). The 3-inch capacitive screen of this phone is scratch resistant and it displays high-quality pictures. The resolution of the screen is 240 by 400 pixels, allowing the users to read even small text. This phone can be used comfortably in the broad daylight too because its display is very bright. The unique viewing angles also make the display sharp.
Bottomline
Though the Sony Ericsson Mix Walkman has some significant weaknesses, the phone is set to find many takers because it is relatively cheap for the kinds of features, which it possesses. The display of this phone is sharp and clear. It features Wi-Fi connectivity and has USB port too. The capacitive touchscreen of this phone is pretty user friendly, but the lack of a QWERTY on-screen keyboard is again a drawback. The hardware buttons are also poorly exposed.