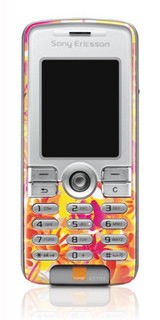 Sony Ericsson K510i has been singled out by vibrant fashion designer Julien MacDonald, and the good old K510i has emerged as a funky piece of fashion statement after recieving a touch of genius from the designer.
Julien has replaced the midnight black and polished purple exterior of the phone with an exotic floral print. Julien explains the funky transition of the K510i,
The print I decided to use for the Sony Ericsson K51Oi was taken from my spring summer 07 collection. The print was inspired by exotic flowers, Orchids in particular, so thought it would be perfect for the spring launch of this handset.
The genius touch of Julien has worked wonders for the sober model, and the re-invented K510i looks great in its new funky look.
The funky K510i is bound to get mixed reaction from the critics, but as a layman I give it full marks.