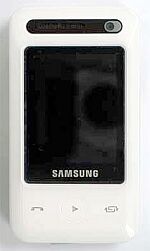 Another multimedia phone from the house of Samsung has got the FCC approval. If you have a first look at the new Z610 UTMS phone, the picture will remind you of an iPod owing to the white color. Anyway, the 3G phone boasts a 2-megapixel camera and a secondary camera for video calls.
You can listen to your much-loved track by simply pressing the Play button placed on the front of the Samsung's Z610. The phone features an extra SD slot to store your massive music files.
The phone looks like a slider but we can't say anything for sure unless we get more details of the phone. No words on pricing and availability.
TechFresh via Mobil.idnes