Belonging to the smartphone family, Samsung S5253 is a great deal for those who want to invest in a cost effective phone. Samsung wave S5253 is an optimal buy. It's fully touch screen mobile and is very attractive and fashionable. It provides for GPRS and EGDE in addition to SM and EDGE band. Weighing 100g, it has a dimension of 109.5 x 55 x 11.7mm. The phone is overflowed with apps and features that will not only be useful for the users but can also be suited according to their own preferences. The customizing ability for every app and feature is the best quality of this phone. That makes it a phone for one and all.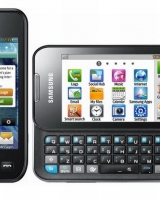 Performance
Delivering the fastest available LAN, Samsung wave S5253 with its quick 802.11n connectivity renders great support for the operation of Samsung apps on 2.5G network which will help you experience apps which are not supported by many other phones. Samsung Wave S5253 acts like a social hub and helps you connect anytime and anywhere.
Features
It provides for oriented service of bada platform. Samsung wave S5253 allows its users to keep updating and refreshing its phone by continuous creation of interesting apps, e-books, music and much more. It provides for an integration of all your e-mail accounts so that you don't have to waste time by opening each site separately. It also comes with extra ordinary modern social mapping tools which helps you share your positioning and life with your loved and close people. Samsung wave S5253 delivers the fastest wireless LAN to facilitate an uninterrupted and quick service to its users. It also has an amazing picture quality with 3.2 mega pixel camera. Features like smile detect and geo tagging are available in this phone. With the help of advance touchWiz UI, it makes its users experience lucid and intuitive.
Design
Having a TFT type of display with a 3.2" screen, it provides for a resolution of 240 x 400. Samsung S5253 has an amazing battery life of 15 hours and standby time of 900 hours. During the announcement about the launch of Samsung wave S5253 on October 2010, a buzz for a touch screen cellular phone was created all over the world. This phone was not only about its amazing looks but also about many new and user-friendly apps which left the customers satisfied. Though the design can be said to be a bit similar as the native Samsung star, but wave S5253 works on the latest bada operating system and this is also made into a smartphone which was not the case in Samsung Star. Minimalist aesthetic appreciators will be highly pleased with the sleekness this phone offers.
Bottomline
Samsung S5253 is not only a craftily designed, slim body, good-looking phone, but, owing to its apps and fast connectivity, it provides its users with a comfortable and easy experience. Powered by the bada operating system, it has great business features too, like conference call, mobile printing, document viewer, etc. Samsung Wave S5253's exuberant supply of next generation apps makes it more appealing for gadgets freaks or users who want to customize their mobile according to their own lifestyle. With its pleasing look and overall features, it's sure to bring to its user high contentment.