Samsung Galaxy Note is probably one of the most stylish and biggest smartphones available in the market. With the intelligence of a smartphone and the looks of a semi-tablet, this phone serves the purpose of both. The sleek streamlined design of this handset is packed-in with a lot of attractive and latest features, which are hard to resist for any gadget geek. First and foremost, the breathtaking 5.3 inches display of the phone is enough to make you go crazy after it. But this feature also makes it inappropriate for one-handed use.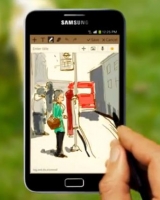 Performance
Keeping looks and features apart, one thing that is really annoying in this phone is the UI. Samsung has been consistently horsing around with its software. The phone's display suddenly dies down and comes back to life only after a couple of seconds. This is the only major problem that Samsung should try to fix without committing more delays.  Otherwise, as far as its overall performance is concerned, it's one of the best smartphones available.
Features
The mandatory features that a smartphone should consist of are 3G, GPRS, Wi-Fi and EDGE; and the Samsung Galaxy Note is not at all an exception in this regard. The 3G enables you to connect quickly to internet, download files and share data. Accessing your mail or social networking site page is not at all a headache for this phone. The Wi-Fi Direct connects with other Wi-Fi devices without feeling a need for a router. Other than these, some of the prominent features that you can notice in this phone are push mail, Adobe Flash 10.1, Document Viewer, Mobile Printing and Document Editor.
As far as your social networking is concerned, you won't be disheartened to know Twitter and Facebook compatibility of this phone. The handset supports an array of other applications like Gmail, GTalk, YouTube, Instant messenger and Google Search. The Samsung Galaxy Note is a good canvass for creative people. The S Memo feature of this phone lets you save the drawings, hand written notes, music, typed texts and videos so that you can have them handy whenever you need them.
The Samsung Galaxy Note is also a super cool device to track your destination. The GPS (Global-Positioning System) is enabled on this phone to help you reach your preferred destinations without getting lost. Apart from the modern day compass, the phone is also loaded with an android market which lets you shop for all the latest applications compatible with your phone. You can download these applications to make your life simpler.
Design
Although the extra-wide dimension of this phone makes it a little bigger to hold and operate it one-handedly, the sleek yet detailed features are inevitable. In spite of having a rocking look, the dimension of this handset is a bit too awkward. The device is remarkably marked at a height of 5.8 inches by a width of 3.3 inches and a thickness of just 0.37 inches. Phew… isn't that thickness a bit too less for the width and the length? The finely grained back cover does little to enhance the grip. The exceptionally large width and the near-to-smooth back cover don't make this phone apt for one handed use. One handed text messaging and instant messaging are not matters of child play on this phone. But the neatly visible spacious virtual keypad is an added advantage for those who struggle to hit the right button on a virtual keypad.
Bottomline
The exceptionally smart Samsung Galaxy Note is a mark of sophistication and elegancy. It should be the ideal device for a show-off freak and the gadget geek. With its neat carved out huge touch screen, the looks of the phone are enough to hide some of the drawbacks that the phone has. And above all, the handset is not mandatorily bothering everybody with its problematic software. The smart features combined with the sleek throwback stylus makes this handset a style icon. With the features of both a phone and a tablet, the handset is perfect for those who want to carry their world in their pockets.