South Korean tech maker Samsung has already become the most influential player in global smartphone and cellphone markets. Various market studies have placed the company on the first rank in smartphone sales, over its closer rival Apple. The same goes for basic cellphone sales when compared to its next rival Nokia. Samsung has been making large gains with its massive line of products that include both high-end smartphones and basic handsets.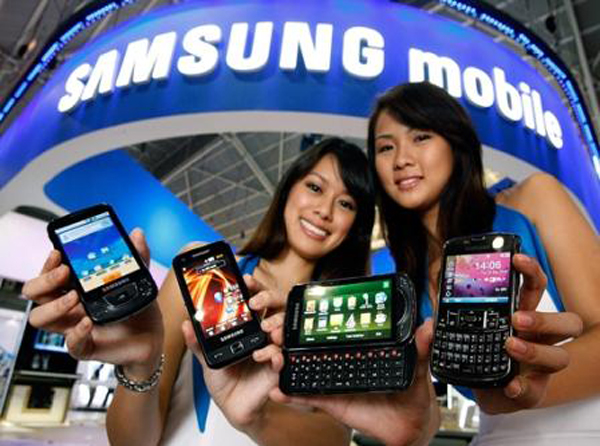 According to Strategy Analytics, Samsung has recently topped Apple in sales of smartphones. The company could make a whopping 30.6 percent gain in sales of smartphones in the first quarter of 2012, which is definitely higher than 12.2 percent sales of the first quarter of 2011. Fine, a line of rich new Galaxy products might have pushed Samsung to the top of the list. Apple also has made an advance from last year in iPhone sales. The Cupertino tech firm could make 24.1 percent growth from where it was last year.
The Strategy Analytics' study also reveals that the global smartphone market has recorded a growth of 41 percent to sell 145 million units in the first quarter of the year. Interestingly, both Samsung and Apple made more than half of the overall smartphone sales. Neil Mawston of the Strategy Analysts says that Samsung and Apple have been outclassing the rest of the product makers in the world for a while. The study concludes that Samsung's Galaxy S series, Galaxy Note and Galaxy Y would have helped the company surge up in the popular smartphone market.
At the same time, the former world leader in handset market Nokia has tasted the severe bitterness of failure over the last one year. The Finnish handset maker's market share of 23.5 percent in the first quarter of 2011 plunged to a frustrating to 8.2 percent this year. The company has been struggling a lot to come out of the slump for last several months with Lumia and other handsets on Microsoft's Windows Phone platform.
Nevertheless, another market study led by the IHS iSuppli doesn't agree with the results of Strategy Analysts at least in case of smartphone sales. The iSuppli study ranks Apple top of the smartphone market over Samsung. But the latter enjoys the No.1 position in overall cellphone market. Apple could sell 35 million units of iPhone in the first quarter of the year, when Samsung only shipped 32 million, the iSuppli analysts say.
On the other hand, thanks to an array of rich feature phones and basic phones, Samsung is now the world leader in cellphone market over Nokia and others. The Korean firm shipped 92 million cellphones in the first quarter. It was when Nokia could ship only 83 million handsets. Altogether, the market studies show that Samsung is really rocking with a significant domination, which will be hard for its competitors to go beyond anytime soon.
Via: CNet