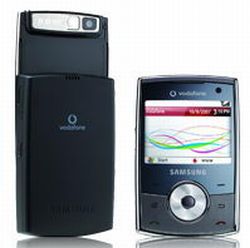 Feeling tired of using outdated mobile phones with good for nothing networks. Aren't you? If you are looking for something stylish and technologically sound as far as your handset is concerned, we're here with some great news. The wait is over now for the convergence of Samsung SGH-i640v with Vodafone has finally arrived to quench your thirst. A month later after its launching, it's now available for you. Its quality matched with elegance and a promise to keep you in touch with some very-very advanced features. Yeah, it's unbelievable but true.
This mobile is outfitted with a 2 megapixel camera for providing you with perfect clarity, some very innovative characteristics like HSDPA, full QWERTY keyboard for extra pleasure of typing, and the latest Windows Mobile 6. On top of that, it's a slider blended with sleek exterior. Nothing surpasses this version and to make it more appealing and opulent, it's equipped with WiFi speakers that would leave you in a state of trance for sure. And that's not all. You can do video messaging, play up to the minute games, and enjoy the convenient options of Bluetooth, Infrared, GPRS, and tune in to beats of the MP3 Player. Mind-boggling, incredible and spot on.
The prices are set to be as minimal as possible. You can become a proud owner of i640v for free to £150. However, it all depends on the plan you have opted for. So, go for it right now.
Source: Intomobile