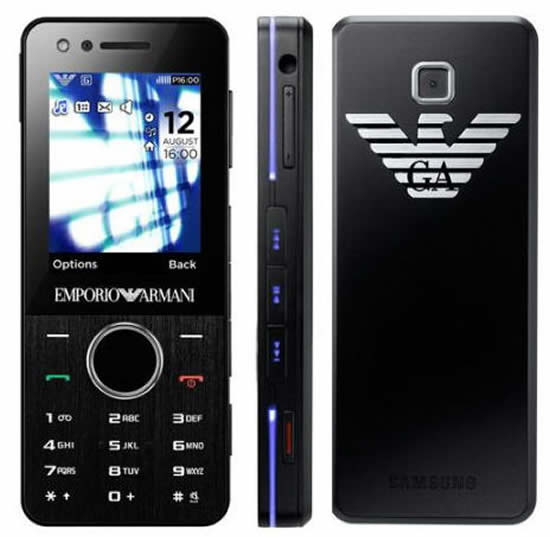 Target Consumers: The brand conscious.
Should they buy it? Only if they are die-hard Armani and Samsung fans.
Why?
Samsung Armani Night Effect, looks shimmy and shiny with the LED strip that surrounds the phone. Bold logos of the Emporio Armani branding can be spied on the face and back of this candy-bar.
Technical Specifications
Spec-wise the candy-bar phone features the signature Emporio Armani styling. Pseudonym-ed Samsung Armani Night Effect, the phone includes a 2.2″ reinforced glass AMOLED display that beams out pictures captured on the 3.2-megapixeled camera. The 120MB memory is insufficient but can be enhanced with a microSD card. The built-in FM radio will keep you entertained during dull moments, and the dedicated music player control buttons will let you to leap through to the music straight on. Night Effect is a Quadband GSM that boasts of HSDPA connectivity.
Pricing & Availability
The phone is expected to hit Europe in November. South East Asia and Middle East countries will follow suit. Pricing details are unavailable at the moment.
What others are saying?
Unwired View says:
It has simple and elegant looks, but overall, I cannot say that I'm very impressed with Samsung Armani Phone 2. For a fashion-oriented phone, the designers could have been a bit more creative.
Source: Unwired View