Samsung's Galaxy series of phones have helped the company to make a name for itself in the overcrowded cellphone market. This range of phones serve the needs of budget conscious consumers to the premium ones. The latest addition to this range are the Galaxy S Advance (the updated version of Galaxy S) and Galaxy Pocket. Priced at Rs 26,900 and Rs 8,150 respectively, these phones are newest entrant into the Samsung Galaxy series.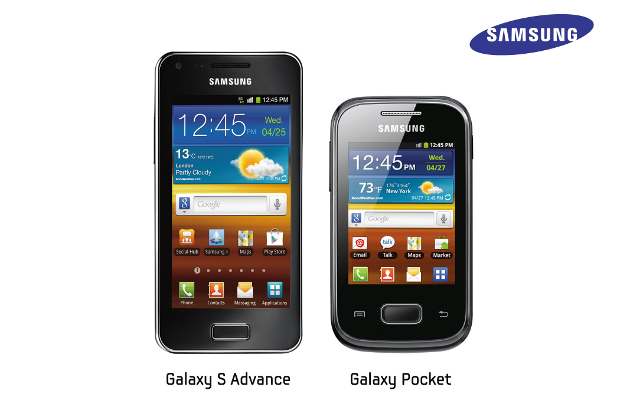 Galaxy S Advance runs on Gingerbread while boarding Samsung's WVGA 4-inches Super Amoled display that gives a resolution of 854×480. It is powered by 1GHz processor and takes pictures with a 5MP camera. It comes with high-end connectivity features that include 3G that helps you download at 14.4 Mbps, Wi-Fi Direct that helps devices to connect to each other and share content without any need of an access point and Bluetooth 3.0. Besides these hardware specs, the phone has been updated with a software called Find My Mobile (we hope the name helps you guess what exactly it does) that helps you track your phone in case you lost it and enables you to remotely delete all the contacts and other data on your phone.
Galaxy Pocket, on the other hand (as the name implies) is lighter on your pocket (in terms of amount you'll have to spend to buy it) as well as fits in your pocket. It is a mere 11.9mm in thickness and weighs just 97 grams. The 2.8 inches screen real estate gives you just enough space to play with it. It also boards Google's Gingerbread that runs on 832MHz processor. It comes with HSDPA capabilities that allow download speeds up to 3.6Mbps as well as Wi-Fi connectivity. Its 3GB of internal memory can be expanded up to 32GB with a microSD. It has the Samsung's custom TouchWiz interface that runs atop Android, while the per-loaded apps such as Social Hub, ChatON messenger and Facebook take care of social networking needs. You can access Google Mobile Services from the phone or download apps from Samsung's app store.
Ranjit Yadav, the country head of Samsung's Mobile and IT operations said at the launch that the two power packet devices intend to offer an immersive user experience. He said that the two phones will further add to the wide range of phones that Samsung has to offer to Indian consumers that range from a price tag of Rs 7,350 and Rs 38,250 with overall 19 models now in this range. He also said that Samsung intends ti increase its share in cellphone market from 44.7 to 60 percent. Notably, it has sold 5 million units of its mobile phones throughout the world.
Via: EconomicTimes