Indian mobile manufacturers pose threat to major market holders in the mobile industry when it comes to low price handsets. Keeping the same in mind, big brands like Samsung keep releasing low price mobiles to show their dominance and increase their market shares. From the same league, now we've Samsung Hero E2232, a budget friendly dual SIM handset that was recently launched in India. The phone has durable as well as ergonomic design and it offers advanced music experience. It is lightweight, user friendly and comes with many other features. Overall, it is a true Hero.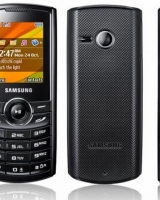 Performance
The mobile is fantastic and provides all the basic features. It has a basic camera that does a fair job considering the price. The music player of the phone performs well and video player is satisfactory. I guess no one will use the video player with this screen size. Its speaker does a good job and does not show any distortion, even at full sound. Battery life is also good for this phone. Overall, it is an extremely good handset in this category.
Features
E2232 comes with a 1.77-inch TFT screen with a resolution of 128 x 160 pixels, FM Radio with recording and VGA camera. The camera has 4X zoom, white balance, night mode and it allows the user to record videos at 15 fps. With 1000 mAh battery, it provides a talk time of 11 hour 20 minutes and a standby time of up to 500 hours. The phone gives you full music experience and there is a dedicated music key that gives you instant access and control over your songs. Apart from that, it has the ability to play music continuously for 9.6 hours. The phone has an internal memory of 20 MB while it supports memory cards up to 8 GB. In that 20 MB, you can save up to 1000 phonebook entries and 1000 messages. The phone supports 2G network in frequency bands of 900 and 1800 MHz.
The phone runs on Java based OS and has all the basic features as well as options in the menu. Users can define the source of SMS as a spam and the next SMS from the source will go to SMS spam box. You can also read SMS in conversation mode. Even you can enter into a conversation using Bluetooth. It has a fake call facility that can be used in certain situations. The phone has Bluetooth, USB port, WAP, 3.5 mm audio jack, inbuilt torch and a mobile tracker application. USB mass storage, PC Sync Application and internet HTML browser are the other feature included in the phone. It has a document viewer that allows you to read Excel, Word and Power point presentations. Some preloaded games are also there, which can be fun sometimes. Other common options in the phone includes, calendar, to do list, world time, currency converter, scheduler, clock, alarm and calculator.
The dual SIM cards of the phone work simultaneously. If you are using one SIM to make or receive call and someone calls on the other SIM, then the message will be-out of range because you cannot use both the SIM cards at the same time. Users can switch SIM cards/numbers by pressing the # key for few seconds.
Design
This is a compact candy bar phone with dimensions of 46.0 x 109.2 x 14.9mm and weight of 79 gm. Mostly made of plastic, this slim and simple phone fits comfortably in your hand. Textured back cover makes it scratch resistant and gives you a nice grip. 
Bottomline
The phone is loaded with many nice features that most of the people do not find in a low cost handset, but it is always good to have a fully featured device. Simple but elegant and filled with many remarkable specifications, Samsung Hero E2232 is the best option at this price. It has Internet connectivity, social networking apps, Bluetooth, USB port and FM radio. Anything off the chart will be very difficult for it. So, do not expect some dazzling menu and make your choice according to its capability.