Samsung has a record of accomplishment for coming up with some of the deadliest smartphones of the age. They are at the top of the phone food chain and instill both terror and competitiveness in the hearts of their rivals. The Samsung I9000 Galaxy S is no exception. It's a sheer monster and has so much under the hood that it will overwhelm any experienced user. It is like a dragon. It needs to be befriended and when it starts to like and trust you, it will give you the ride of your life. Samsung will probably outdo itself with the Galaxy SIII (Exp. release 2012, Q2) with a quad core processor and 2GB of RAM (running Android Ice Cream Sandwich), but more on that later.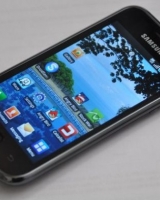 Performance
Samsung did not stop at the huge display. Instead, it fitted it in with a number crunching 1GHz A8 processor and 512GB of RAM in that space of barely 10mm. The 5MP camera performs top notch with stunning results. When coupled with native DivX and Xvid support and awesome music playback capability, the Galaxy S will bring office work and boredom to its knees. A huge 1500mah battery ensures a Stand-by of up to 750 h (2G) / up to 576 h (3G) and talk time of up to 13 h 30 min (2G) / up to 6 h 30 min (3G).
Features
The Galaxy S has quad-band GSM and tri-band 3G support coupled with HSPDA (7.2Mbps) and HSUPA (5.76Mbps). The screen is a monstrosity at 4" and 16 million colors. A super AMOLED capacitive WVGA touchscreen with a max resolution of 480X800 literally screams "clarity". The I9000 ships with Android OS v2.2 (upgradeable to v2.3) which has been customized by Samsung with its TouchWiz 3.0 UI. Under the bonnet, the Galaxy S houses a 1GHz Cortex A8 Hummingbird processor with 512MB of RAM and 2GB of ROM. The camera is a 5MP auto-focus variant with smile, blink and face detection. Video recording is at crisp rate of 30fps in 720p. The phone supports an external storage of up to 32GB should you succeed in exhausting the onboard 8GB/16GB.
Design
Samsung deemed it fit to encase the Galaxy S in durable yet lightweight plastic. We have seen the same trick with the Omnia series. The back of the phone is blue-dotted which, though a bit eccentric, is quite an attention grabber. However, the back is only important if people can get over the front. The screen is by far the best in the market and you won't be able to keep your eyes off of it. The super AMOLED screen spews out colors in an abundance of pixels. The overall ergonomics of the phone are quite good though first time users may have a problem with the screen size. The plastic casing is very durable but attracts fingerprints. The screen is scratch resistant due to the Corning Gorilla Glass protection. At 122.4 x 64.2 x 9.9mm, it weighs only 119gms.
Bottomline
The Galaxy S outshines and outruns its rivals with flair. Thanks to the customized TouchWiz UI, the phone does not look cluttered even with numerous apps and widgets. The god-like super AMOLED screen puts the phones from its main rival, HTC, to shame. Be warned, the screen and specs of this phone are so good, you will not be able to go back to anything lesser. So, you should probably buck up for a long term relationship with Samsung.