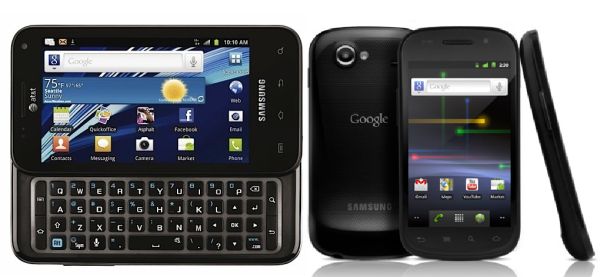 The Challenge
Comparing two mobiles is usual. But, comparing two mobiles from the same manufacturer, is not. The Galaxy Nexus and the Glyde – both come from Samsung and we are going to compare them. First of all, It has to be understood that these two are very contrasting mobile phones that have different functionality. So, which one is for you? Let us take a look.
Samsung Captivate Glyde
As the name suggests, this mobile from Samsung will has a gliding QWERTY keyboard that is very physical, 8MP back camera, a front camera, 1 GHz processor, AMOLED display and Android 2.3 are some super features of this mobile.
Samsung Galaxy Nexus
The much hyped phone from Samsung, is now in the market. This phone too is rock solid in terms of performance and hardware. The display is crystal clear and is a direct threat to all other devices in the market. What makes the phone so special, is undoubtedly the Android 4.0, the Icecream Sandwich.
Comparison attributes
Display
The Captivate Glyde has a 4-inch screen with super AMOLED, while, the Nexus boasts the same super AMOLED with a larger – 4.65 inch – screen. The Nexus has a crystal clear display while the Glyde offers you more color depth.
It is really hard to choose a winner here, as both display screens are really good. If you are going to be watching movies, then Nexus is for you. At the same time, if you are more in to working, you can go with Glyde as it offers you a physical keyboard along with a professional display.
Winner: Too close to call
Processor
Gone are the days when we judged mobile phones by their looks. Now-a-days, even kids know about processor speeds and what they do to your mobile. Most of us today, are into multi-tasking with our mobile phones and the processor is very vital for that.
The Captivate Glyde offers you a 1GHz Nvidia processor with dual core, while the Nexus offers you a 1.2GHz processor with dual core. Since the processor is from Nvidia, Glyde has a better gaming performance. But, overall, the Nexus should win this one. The performance in the Nexus is seamless, it overhauls even the Galaxy S2 and the iPhone 4, in terms of multi-tasking.
Operating System
Now, do not decide this one in haste. You see, the Android 2.3 of the Glyde is tried and tested. It is a successful one and there are almost a dozen mobile phones running on that. So, you get unlimited applications, 24 hour support et al. But, the Icecream Sandwich aka Android 4.0 is new.
New is not always great. Yes, it is the future, but the Nexus is the first mobile phone to have it and the technical support for it might not be available for some while now. The Android 4.0 is supposed to be great, but are you ready to test it before you can actually use it? It is up to you to decide.
4. Camera:
This one goes to the Glyde because it has an 8 MP camera over the 5 MP one in the Nexus. The Glyde, due to its better camera, offers you good pictures that are vivid and clear. Both the phones have LED flash support with auto-focus and hence shooting at night should not be a problem in either of the devices.
Memory
This part is where the Nexus fails you badly. The Glyde with a minimum internal memory of 8 GB, which can be extended up to 32 GB, using a Micro-UBS slot is a good one. Meanwhile, the Nexus comes with an internal memory of either 16 or 32 GB that cannot be extended as there is no extra card slot. So, you have to pay some big bucks for the internal memory. At the same time, with the internal memory, you will not lag in the speed. The phone will be very easy to use.
Winner
The Smart Mobile market is changing every single day and hence you always have to buy the one that is new! The Android 4.0 is the future and when that is available, you do not want to downgrade yourself by going with the 2.3. The Nexus is here to stay! Buy it and you can live with it for a long period of time.