In the current trend, dual SIM compatible mobile phones are not big wonders as there are a number of devices which offer this facility. However, devices that are made to work on both CDMA and GSM networks are quite uncommon and it is a laudable feature as well. Samsung Duos 259 was destined to utilize the advantages of both these sets, through its dual SIM facility. Though the device was launched many months ago, its useful technology makes this handset a better contender among the contemporary devices that are available today. Scan the story below to become aware of Samsung Duos 259's brilliance.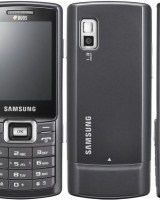 Performance
The handset's battery life is quite disappointing with a capacity of about 230 hours on the standby mode and a talk period of 4.8 hours. However, it is sufficient for the normal day-to-day activities. Its various connectivity options let users to simplify the uploading and downloading processes. Surfing is smooth with its WAP and HTML browsers, while the presence of GPRS, EDGE, USB and Bluetooth features delivers an effortless browsing experience.
Features
Samsung Duos 259's dual SIM facility on two different sets is its highlight. The device features a 2.2 inches regular TFT display screen that has a resolution of 176 x 220 pixels. It has a capacity to display 256K shades of vivacious colors. The presence of GPRS and EDGE facilities add value to the device. SMS and email options are also available as the messaging attributes. MMS and WAP 2.0 are included as well; but, they are destined to work with the GSM SIM only.
On the multi-media segment, Duos 259 includes a 1.3 MP camera that could capture images of the resolution 1280 x 1024 pixels. Astonishingly, it could record motion images as well. Inclusion of a FM radio adds entertainment options to this less-sophisticated device. Unfortunately, the device doesn't includes a standard 3.5 mm audio jack. However, the presence of a loudspeaker adds advantage. Bluetooth and USB facilities entitles sharing of data with various devices. The handset features several games by default and fortunately, they are downloadable as well.
A standard Lithium-Ion battery powers up this dual SIM device. The handset encompasses an inbuilt storage capacity of 40 MB and supports external memory capacity up to 8 GB which is quite sufficient.
Design
Samsung Duos 259 possesses a stylish design along with a simple metallic touch that makes it highly attractive. Belonging to the candy bar segment, this bulky looking device weights about 120 grams. The display screen occupies nearly half the space on the front face. Alpha numerical keypad along with comfortable D-pad and call-handling buttons are designed on the bottom half. On the left side, volume keys, USB slot and the audio output port are featured, while the shutter button for the camera is embossed on the right side. The 1.3MP camera takes position on the rear face and the loudspeaker sits adjacent to it. The slot for the memory card is identified inside the battery compartment, which makes it quite uncomfortable.
Bottomline
In a nutshell, Samsung Duos 259 is an affordable and handy gadget for people on the move. If sumptuous entertainment and sophisticated multi-media features are your high priority, then this handset may not be the best device available in the recent trends. Samsung Duo's Dual SIM functionality that works on two different sets, makes it highly laudable.