Intermingle some innovative technology touch-ups, slash down the dimensions to pretty impressive sleekness, string along a not-so heavy price tag, and what you get is – Samsung Corby Pop C3510. Yes, that's what the mobile device exactly narrates about. Designed quite aesthetically, the Corby member pulls somewhat good points for delivering an enriched, immersive user experience. However, you better don't expect any high-end functions inside the compact chassis or look forward to literally revamping your experience. A pretty good looking touchscreen phone with a 'hunky-dory' set of features and a 'pocket-friendly' tag is what Corby C3510 gets summarized as. Nevertheless, the Java MIDP 2.0 enabled smartphone does talk 'smart' in many ways – if you flip and scrutinize both the sides.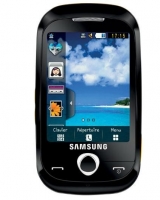 Performance
Performance-wise, Samsung C3510 takes good care of business and winds up offering an impressive functionality level. Although you cannot match the strengths with smartphones such as HTC Sense or Apple iPhone, the device still helps you stay connected, surf the web, manage personal and professional lives, click your favorite moments, and download loads of fun apps and games with utmost ease. Integrated with Samsung's proprietary operating system, Corby Pop C3510 enhances the performance even further and gets you almost everything without really pricking up your sensitive pocket.
However, photography admirers may have to arch their shoulders as it packs in just a basic 1.3 megapixel camera with 4x digital/optical zoom. Tell us now, what kind of quality would you expect the integrated 1.3MP to send across? Not so great, right? Nevertheless, the QWERTY keypad just simplifies typing on the whole whereas its 906mAh standard battery life will allow you to seamlessly engage in talk-time of up to 10 hours and standby time of up to 720 hours.
Features
Powered by Samsung's proprietary operating system, the new Pop C3510 comes equipped with a decent 2.8-inch touchscreen display with resolution support of 320 x 240. Ok, we know the embedded screen resolutions falls almost nowhere when placed on a comparison scale with other super advanced handsets out there. But don't you forget, the Genoa also counterbalances the act by falling comparatively lighter on those bantam pockets. Nevertheless, the handset boasts of its cartoon user interface and social networking integration featuring live updates. So whether you want to quickly update your status or simply want to share your favorite pictures online, the device will let you do all with ease and convenience very much intact.
The touchscreen model even incorporates Java games, FM radio with recording, rich music library, music player and DNSe 3D sound technology for fun and entertainment. Whereby, a good video player with video recording and video messaging joins the league too. The serious side, on the other, gets to welcome mobile printing (Bluetooth), voice memo and voice mail, PC Sync Application, USB v2.0, WAP v2.0, and SyncML Support.
But hold on, what's in the kitty for photography admirers? An extremely basic 1.3 megapixel camera with digital 4x zoom and white balance (comes as an answer). In fact, you will get to perk up your experience through several photo effects and shot modes. Yet again, comparison with others is something you should strictly steer clear of. Anyways, some other highlights include mobile tracker, personal information management tools, 22MB user memory, and support for up to 8GB external memory via microSD.
Design
In terms of design, Corby Pop C3510 leaves more than a good impression – as peppiness could be seen across all through the chassis. The device very much maintains the sleek aesthetics and catches attention for smooth curves. Enclosed in a touch form factor, the mobile phone shares compact dimensions that weigh around 92.2g and sum up in 103.9mm x 55.4mm x 12.9mm. Featuring a neat 2.8" TFT display which occupies most of your device's space, Corby Pop C3510 locks not only on the comfort factor, but also on the ease of use. In fact, some of you may even find this trendy Genoa with a face that resembles quite a lot to Samsung's previously launched Corby S3650. However, there are still some noticeable differences.
Bottomline
To give the final points, Samsung Corby Pop C3510 (Genoa) is a decent enough phone for all your needs – be it staying interwoven with social groups, surfing the web, listening to music, or simply playing games. However, 'no extraordinary performance' will be promised for the obvious reasons. Priced just about Rs. 7,000, the handset (in a nutshell) makes a good pick for all those who seek fine performance wedded to lightweight dimensions and voguish cover. By the way, eye-catchy pink and black are the two tinges you will have to choose from – if you are planning to snap it up.