Global electronics major, Samsung has recently rolled out Corby Plus B340, the recent addition to their line of cell phones and it has already been made available for the consumers in India. Initial feedback from those who have used it is that new phone is feature rich and all this comes at an affordable price too. Whenever you will hold this phone in your hand, the most stunning thing you will notice is the fusion of a touch sensitive screen along with a sliding QWERTY keypad. Perhaps this feature makes this phone unique in its own way. You will find its screen very sensitive, being loaded with Samsung UI Touch Wiz, a signature Samsung touch screen technology tool. The external body make-up is a bit differently built due to its combination of touch screen facility and a QWERTY keypad, which slides below. The front panel consists of a 2.6-inch TFT screen embedded with three primary keys below it. This new introduction will offer the gadget enthusiasts a unique arrangement packed with all other standard features that are found in a good quality cell phone in today's market.
If you are a social networking buff, this phone has lot to offer as it comes with preloaded mobile software to access popular social networking sites such as Facebook, Orkut, MySpace, Flickr, Friendstar, etc. Apart from that, you will find some unique features like fake calls and pre loaded Gmail app. The design and technical team at Samsung has gone upto great lengths to make this launch an instant hit among the gadget enthusiasts.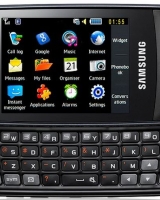 Performance
By industry standard and considering its price, it gives a decent enough processing speed and the battery backup is also not bad. However, it should be noted that the camera feature performs below expectation. They could have made it more advanced.
The phone is stuffed with a 960mAh lithium-ion battery, which can last up to 640 hours on standby mode and can give a maximum talk time of upto 10 hours and 40 minutes.
Features
Samsung Corby B3410 runs on Samsung Touchwiz 1.0 operating system. It is a Quad Band GSM/EDGE cell phone. The phone comes with an internal memory of 20 MB, which is expandable upto 8 GB, by inserting a MicroSD memory card in its built in memory slot. It has a built-in 2MP camera and supports video recording with 13 FPS and 4X digital zoom. Other added features of the camera are mosaic-shot, multi-shot mode, timer shot, photo effect, and white balance. You can access internet through GPRS and EDGE connectivity and can use bluetooth facility to transfer data with other mobile devices. You can also connect it to a computer with a USB cable. However, the device cannot support GPS facility. It is pre-installed with net browsers such as Access NetFront 3.5 and Wap 2.0. It has a 3.5 mm audio jack where you have to insert the headphone. It can play MP3 and eAAC+ versions of songs. Apart from this, it can also play MP4, H.263 and H.264 formats of video files. The facility is there to tune in to FM radio channels. It supports MP3 and 64 polyphonic variants of ringtones. It has a DNSE (Digital Natural Sound Engine) mechanism to ensure you good quality sound. 
It supports SMS as well as MMS sending. You can also send e-mail through this phone, by using pre-installed Gmail app in a convenient and efficient way. The phone is loaded with MDIP 2.0 version of Java and can support Java enabled games and other similar features which require Java.
Design
From the design point of view, this handset from Samsung is good enough. The most evident feature of this phone is the combination of touchscreen with sliding QWERTY keypad. It has TFT screen of QVGA resolution with dimension of 2.6 inches. It holds 320×240 pixels in it and is capable of producing 256 K different color bands. The external dimension of the phone is 52.4×102.3×15.9 mm and the total weight is around 113.7 gm.