Mobile companies have been targeting youth as the largest chunk of consumers in Indian market. To allure them, companies have come up with devices that help them stay connected on various social networking sites and facilitate messaging through advanced texting technologies or QWERTY keypads. Samsung Chat 527 is one such mobile phone that comes equipped with 3G, Wi-Fi and a QWERTY keypad to help you type faster. The handset comes with applications that help you stay connected on social networking sites as well as instant messaging programs. High-speed Internet with SNS and IM support means you can share anything with your friends anytime.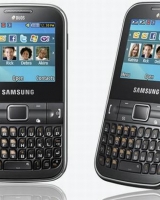 Performance
The phone offers impressive Internet speed thanks to 7.2 Mbps HSDPA. You will not have to wait to upload images or browse through your friends' gallery online. The screen is vivid and large enough to communicate through instant messengers. The phone offers you a number of widgets to keep you active on the social networking space. The sound quality is above average, thanks to the 3D sound technology and 3.5mm audio jack. The external memory that can be upgraded to 16 GB offers enough space to store your multimedia. The 2 MP camera can shoot average pictures and the VGA camera in front is another plus to help you video chat. The 1,000mAh battery offers a talk time of up to 11 hours 25 minutes in case of 2G, and up to 5 hours 14 minutes in case of 3G. The standby time is 960 hours and 680 hours respectively. 
Features
Samsung Chat 527 comes with advanced connectivity features. It has GPRS, EDGE as well as 3G to offer. Its HSDPA 7.2 Mbps band offers fast browsing as well as downloading speeds so that you don't have to face any problems related to Internet connectivity. It also comes with Wi-Fi, which means you can connect to Internet at hotspots. The handset comes with apps and widgets to help you stay connected on social networking sites such as Facebook and Twitter as well as instant messengers such as Yahoo messenger or GTalk. It comes with a 40 MB of in-built memory that can be extended up to 16 GB using the microSD. The mobile phone comes equipped with an optical track pad, which is an addition to the previous version of the phone, Samsung Chat 322. The QWERTY keypad comes with spacing between keys that would make your texting a touch faster.
Its 6.1 cm TFT display offers you enough screen size to communicate over the Internet with your friends or just browse through the web. It boards a 2 MP camera that takes decent enough pictures and a VGA front camera that would allow you to do video chatting. It offers different shot modes and white balance feature to enhance the quality of your images and videos. The 3.5mm audio jack allows you to lug in your favorite speakers or headphones. Moreover, the 3D sound technology would give you a more enhanced music experience. Its 1,000mAh battery should be enough to meet your multimedia and connectivity needs throughout the day. 
Design
Samsung Chat 527 comes in a QWERTY, bar form factor with a 6.1 cm display. The TFT display has a resolution of 320 x 240 pixels and offers high color-depth. The QWERTY bar phone weighs just 96g and it would slide comfortably into your pocket. The dimensions of the phone stand at 103 x 55 x 12 mm making it a sleek and slim phone to hold in hand. There is appropriate space between the keys to make your messaging more comfortable. The phone has metallic exterior adding to its luster and design. Moreover, it has a 2 MP camera in the rear and a VGA camera in the front. It has microSD slot, USB and charging port and a 3.5mm audio jack on the top.
Bottomline
Samsung Chat 527 is a great phone for those who love to stay online and chat with friends. Its 3G capabilities ensure a hassle free Internet experience. The phone can also be connected to your PC, so that you can browse the Internet or download files on your PC. The QWERTY keypad will make your life easier if you text or chat a lot, which is also exactly the kind of audience it caters to. The 1,000mAh battery ensures that you do not run out of battery, even if you're using 3G often. The audio quality is good and it offers you the video calling feature.