A trendy candybar exterior with a number of handy features puts Samsung Chat 322 in a league of its own. It is a good blend of practical functions and fun to do things. People who are mobile most of the time will appreciate the handset. Connectivity is good, there are plenty of options to give a buzz and you can keep yourself busy with the music player and camera. There are many options for you to stay in contact with others. With options like dual SIM and access to social media networks slotted at the budgeted price, this phone is worth a steal. If your basic need from the phone is fast and easy communication, then this piece will be a good pick.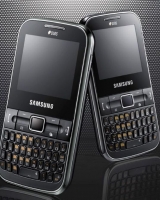 Performance
Samsung Chat 322 packs in so many features to stay linked up with your contacts, like GPRS and EDGE. The Bluetoothv2.1 with A2DP is a bonus. Move files easily from the computer to your phone with the MicroUSB v2.0. Log onto MSN or Yahoo messenger and also social networks like Facebook or Twitter within minutes as the icons are displayed visibly on the homescreen. It supports AAC, MP3 and WAV music files. The battery life is average though; it seldom lasts through 11 hours of talk time. Take pictures with the 1.3 MP photo snapper and record videos on this phone. It also has a number of inbuilt games.
Features
The dual sim phone flaunts ample memory. The shots from the camera and quality of music tones will bring a smile to your face. Stay online with its connectivity alternatives, T9 function and internet browsing. People who like to stay wired and yak for hours will love this handset. Buzz endlessly with SMS and MMS or send out notes using the e-mail and push e-mail. It is available in standard hues of black and white and those who like bright tints can go for the pink shade.
Design
A broad frame with a spacious keypad and rounded edges gives the phone a fab look. A chrome strip runs on the front while the back is made of shiny plastic. It is very easy to navigate through and control the mobile. The trackpad, placed in the center, runs smoothly. You can easily run through the menu and it is easy to operate the four shortcut keys. The button to turn off the screen is on the right. The volume rocker is on the left and it is easy to specify settings with it. Though the four row QWERTY slider helps you text messages, its buttons are somewhat tough. Therefore, typing will not come very easily. The screen size is not very impressive either and measures just 2.2 inches.
Bottomline
The handset looks smart and is loaded with all the useful functions. The wide selection of options for you to stay connected with people is overwhelming. The assortment of social networking and chatting features is quite good. Most functions can be accessed effortlessly, and mapping though the phone will be a cinch. Toggle between personal and business settings with the dual sim. There are many entertainment options like music, games, camera and video recording. At the price the handset is tagged, these features are perpetually a windfall.