Samsung B5722 is a quality low-end handset. The Korean tech maker launched this tiny phone three years back with an eye on customers, who want an affordable phone with the touch of latest technologies. Well, the B5722 stays different in the bottom-of-the-line handsets with a 2.8-inch touchscreen display, 3.15-megapixel rear camera and a dual SIM option. Yes, this Samsung handset becomes a standard product with connectivity options like GPRS and EDGE. It also rocks the support of Google Talk and better audio and video capabilities, which help customers listen to music and watch movies with moderate quality.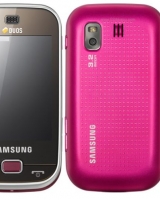 Performance
Samsung B5722 performs pretty nicely. Its Bluetooth comes in the configuration of 2.1 with A2DP so it does well in sending and accepting data. For connectivity, it depends on GPRS that has the configuration of Class 10 (4+1/3+2 slots) 32- 48 kbps and EDGE with Class 10, 236.8 kbps. However, its Li-Ion 1200 mAh standard battery doesn't perform up to the mark. It offers 400 hours standby time, but talk time available is only 4 hours 30 min. 
Features
Samsung B5722 is a moderate phone with several advanced features. Fine, the gadget comes with a 2.8-inch TFT capacitive touch display with the support of 256K colors and 240 x 320 pixels at 143 ppi. It also has TouchWiz 1.0. See, we are not talking about any premium smartphone. It is just a low-end handset aimed at the average customers. However, Samsung has designed it with many affluent features. Indeed, it is a deliberate move to make it a right pick for those, who want to see more and more of new features on an affordable phone.
For network connectivity, the B5722 has only two basic options: the GPRS and EDGE. Plus, there are Bluetooth 2.1 (A2DP) and a microUSB port, which will help you hook up the handset with other phones and computers. The device's default web browser is supported by WAP 2.0, xHTML and HTML standards. When it comes to messaging and communication, the B5722 offers SMS, MMS, email and IM thanks to Google Talk. It has stereo FM with RDS and recording capability. There is Java MIDP 2.0, but no GPS, though.
Coming to the camera specs, the B5722 has an edge over many of its rivals on market. The Samsung phone sports a decent 3.15-megapixel rear camera with 2048 x 1536 pixels and LED flash. The camera can shoot video at QVGA quality at 15fps. Sadly, for the video call buffs, the device does not have a secondary camera. The phone has better multimedia capability as well with rich audio and video support. Moreover, it supports MP4, MP3, WAV, WMA, eAAC, H.263 and H.264 formats of video and audio. 
Design
This economical phone from Samsung has a neat and dinkier design. It weighs just at 105 grams, which makes it a lightweight and handy product. Measuring in 104 x 54.9 x 14.4mm, the B5722 is a small handset too. The large dimensions give enough room for the display, which looks wide, indeed. Samsung produces the B5722 in two vigorous colors: elegant pink and dark brown.
Bottomline
Samsung B5722 seems to be an intelligent pick for customers, who want an affordable phone with as many as high-tech features. The device intelligently mounts a touchscreen display, 3.2-megapixel camera and better multimedia features, which will attract average customers a lot. Dual SIM is yet another notable thing. In many global markets including India, customers give much importance for dual SIM capable handsets. Above all, the B5722 is priced reasonably.