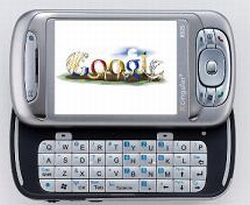 Google has been working around this weekend in signing agreements with wireless carriers, phone makers and software developers to launch a new project code named Android, a platform for creating applications for mobile phones.
Android, the software suit will contain a complete mobile phone software stack on a Linux based OS platform. Android will contain full of components, including an operating system, a set of common APIs, a middleware layer, a customizable user interface and even a mobile browser.
Till now, no-one has confirmed who will launch the actual handsets, but the sources have strongly linked Japan's KDDI and NTT DoCoMo for the announcement. These companies are rumored with other 30 partners, which would be known as 'Open Handset Alliance', including Qualcomm, Broadcom, HTC, Intel, Samsung, Motorola, Sprint, and Texas Instruments.
Google had acquired the mobile software company called 'Android' led by Andy Rubin, the co-founder of Danger in 2005. It has never been revealed what the firm has worked on since the takeover. Google announced that Google's development platform is going to free for anyone who want to use it. Google is trying to reduce the cost of mobile applications and make it easier for everyone.
Image: Google-Phone