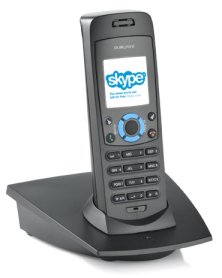 RTX Dualphone is the first Dualphone that lets you make both Skype calls and landline calls from a single unit. It is a standalone cordless Skype phone.
The phone requires no PC and it lets you roam around up to 300 meters from your house while making and receiving calls.
The phone kit will include a base station, a cordless handset and a charging dock. All you need to do to install this phone is to connect the router and the landline cord with base station which should then be connected to the power supply.
The phone will give you two options of making a call whether a landline call or the Skype call. Its LCD display will show all your friends who are online in Skype.
The price for this Dualphone is £109.99, which comes around to $206.
Via: Gizmodo