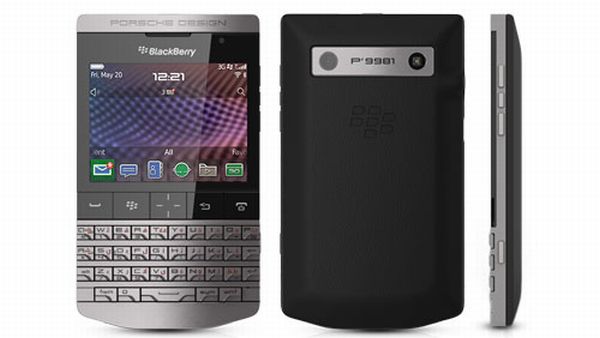 When we think of fast cars with great design, style, and the 'oomph' factor, Porsche always comes to our mind. And when we think of a great smart phone, we cannot avoid thinking of BlackBerry. Now if we think about both of them together, then we may end up thinking about a great BlackBerry phone with the great Porsche trademark of work-ability with elegant styling.
This co-branded P'9881 has 1.2 GHz processor, 8 GB of internal storage, BlackBerry 7 Operating System, HD video camera, stainless steel case with a leather back and touch screen capability with the QWERTY keyboard. This is a new age ultra modern smart phone developed for all the young executives who love to play it hard but in a smooth way.
Pricing and availability
This limited P'9881 will be available by the end of 2011 and one can get this luxurious Smartphone for $ 2000.
What's great
The material used for making the P'9881 is the same as that is used in the Porsche Premium Sports cars. It has hand wrapped leather back with stainless steel finishing to give it a stylish shiny look. This design gives P'9881 both a modern futuristic look with a hint of Retro design.
P'9881 configuration is not ground breaking and it is almost the same as Black Berry 9900 Bold. It only has a 1.2 GHz processor with 8 GB internal storage, though one can use expandable memory sticks as well. Keyboard design has also been changed to give it a stunning new look. The keyboards are placed in angular position and they are also designed by thinking of Porsche's trademark design. The 5 MP camera is able to capture 720P HD video that can be played on 2.8 inch 640X480 touch screen. Users now can use both the keypad and the touch screen simultaneously. It also has the regular dual band Wi-Fi capability with GPS, accelerator. This entire phone has a thickness of only 11.3 mm. The dimension of this phone is 115X67X11.3 mm and the weight is just 155 grams.
But one of the major changes is that this Porsche design Smart phone has a unique User Interface with specially designed icons and a custom Wikitude Augment Reality application which uses a location based search using a in-built compass. P'9881 also has unique PIN through which users can identify and connect with other P'9881 users through Black Berry messenger. P'9881 will also run on the new Black Berry 7 OS and this will give users a great BlackBerry application with more functionality and smooth transition within different applications. P'9881 also has the second generation Webkit browser that will give users fast and smooth liquid graphics.
What's not so great
P'9881 is not for the mass. It is developed for the people who love to live a luxurious life and the price tag of $2000 USD depicts the same. But in this price tag, people may expect a BlackBerry covered with precious jewels such as gold or diamond. But this one has nothing except the name of Porsche. Also this Smart Phone is not available to any one. Only few retailers and Porsche Design showrooms will sell them and the number is limited.
Things to watch out for
This luxurious hand set handset has been built with materials which are used in the premium Porsche cars. The phone also has the latest Black Berry OS7 that can harness the power of Black Berry application world version 3.0. The user interface is designed by the Porsche design team and it has a unique feeling that can be only compared with Porsche super cars. The memory also can be expanded up to 32 GB.
Verdict
Black Berry phones are known for their superior performance and Porsche is known for its luxurious premium sports car. Both are international brands and now they came together to harmonize the power of the luxury with performance. Only downside is the price point. If Porsche Design later decided to reduce the price point then many people may be able to enjoy the power of both the world. But again this is not a phone for everyone. This one is meant for the elite and this will be a hit among them.