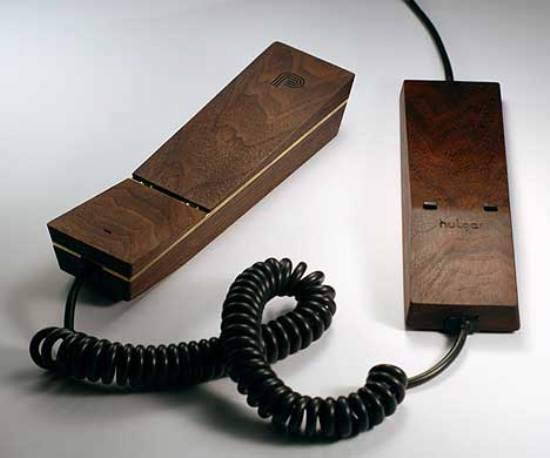 Target Consumers: Guys on the hunt for wooden creations.
Should they buy it? Yes
Why? PAPPA*PHONE will be a treat for those with an aesthetical mind. Before going through the specs, it is the craftsmanship of the phone that wins the heart. To relieve us from the ubiquitous use of plastic, PAPPA*PHONE is the first wooden VoIP wooden phone crafted out of a single piece of sustainable American walnut and brass. Making the use of buttons in standard phones redundant, Hulger has brought the computer interface with phone-screen menu for smooth functionality.
Technical Specifications: Skype phone with MAC + PC, plug and play, no need for software installation, works with all VoIP services including Skype, iChat, GoogleTalk, Vonage and Yahoo, handset cord length 1.5 meters, handmade by Furni of Montreal.
Pricing & Availability: This handmade wooden phone is available from hulgershop.com for $300.
What others are saying:
According to acquire, Hulger just won us with what has to be the coolest looking VoIP/Skype phone we've ever seen.
In a post on MoCo LoCo, Sabine7 was overtly excited about the design of the new Hulger PAPPA*PHONE. According to this post, it is difficult for a layperson to imagine the start-to-finish process of the product.
Via: Designcenter