Competition for the tallest, widest, fairest and strongest is always going on. And when it comes it technology, it's all about making things smaller and thinner, apart from the much obvious simpler and easier. Waif thin gizmos have always caught the fancy of buyers. So, companies are always churning out doodads that look sleeker and slimmer. But, it looks like the mirror on the wall has some startling news for those ruling the mobile phone market currently. In the competition to get wiry, the winner is not a recognized world famous brand, but actually a not so well known Chinese manufacturer.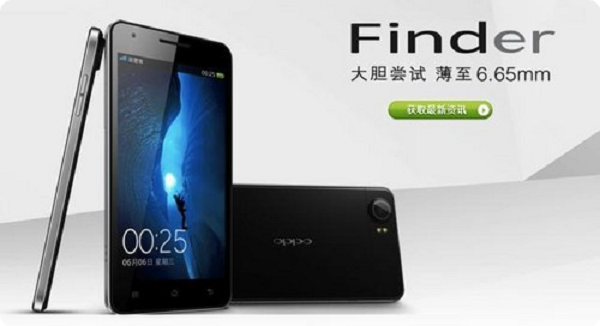 Actually, the news shouldn't be that surprising. This nation is known for compressing gadgets to their smallest possible size. In any case, the name that takes away the crown is simple and unusual, Oppo. This is a domestic brand from China. The company has launched an Android cell phone that measures just 6.65 mm. In other words, the mobile is just 0.26 inches thick. This one of a kind phone by Oppo has been dubbed as Finder.
This unquestionably is quite an achievement and here are some comparisons that will help you gauge the brand's win over others. The mega star iPhone's girth is 9.3mm. Luminaries like Droid Razr and Galaxy S II stand at 7.1mm and 8.45mm respectively. So, in contrast, the bony scale of this handset did leave many astonished. Most of the eminent brands don't even come close. Also, to take over the throne, Oppo knocked over another Chinese brand. Huawei's Ascend P1 S that lost out is quite lanky itself and stands at just 6.68mm.
The specs of the Finder mobile phone from Oppo are as follows. It has a powerful 1.5GHz dual core processor. The 4.3 inch Super AMOLED Plus screen looks swish. The handset boasts of 1GB RAM and also has a built in storage of 16GB. The mobile has two cameras. The 8 megapixel camera at the backside can shoot 1080p videos. While, the camera loaded on the front is a 1.3 megapixel piece that shoots at 720p.
The exterior of the phone matches with the top spot it has acquired. The very simple façade highlights the core feature of the phone – its slender frame. The edgeless glass is mesmerizing while the metal rim is absolutely classy. Its shiny silvery skin totally stands out. The phone bears three capacitive buttons for navigation and also has some docking as well as charging pins on the front. If you really want to own it, then it can be preordered, and the booking process starts from June 6. You will have it within one or two months. The handset costs yuan 3999 or $632 when pre-booked from cellhut.com.
Via: Micgadget