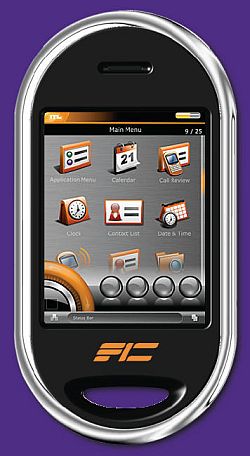 While we have seen some Linux phones earlier too, the new OpenMoko from FIC claims to be a truly Open Linux phone that runs on the latest Linux 2.6.18 kernel. The thing where it stands different from earlier so-called Linux phones is that unlike them, the new OpenMoko features a Linux kernel that is open from top to bottom. The OpenMoko comes with fully exposed radio and a GPS unit. It even offers you the functionality to make your own kernel using the tools. Being open comes into notice as you can get the software you need from any repository if you want to do something on the phone that your phone doesn't do.
The tech specs of the OpenMoko include a 2.8-inch VGA touch screen, microSD slot, Bluetooth 2.0 support, USB, two 1watt stereo speakers. While you can get the base configuration with 128MB flash and 128MB of DRAM, you can also opt for the version with 1G flash. The battery time of OpenMoko is somewhere around three hours. The sleek phone also comes rocking a Globallocator GPS unit but it lacks WiFi.
Well, if you are looking out for mapping software for GPS, you simply need to type apt-get and the work is done. The OpenMoko features a full range of software and offers you the ability to modify it. Another catchy feature of the OpenMoko is its text communications application that merges message and e-mail in a single program. The phone will be launched commercially in January for a price of $350 along with a full range of softwares and the accessories like a car mounting kit, straps, chargers etc.
Via: theinquirer