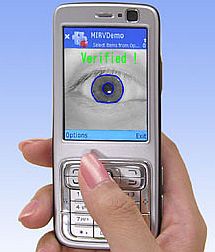 Oki Electric has developed the new Iris technology for the cellphones featuring cameras. While the prior Iris recognition technology was limited to the infrared cameras to perform the iris scan, the new improved technology will work with run of the mill cellphone camera.
All you have to do is to install the particular software on your cellphone or PDA to execute iris recognition. The system is claimed to be very precise with error being reported in 1 in 100,000 scans. The new system is able to differentiate between living eyes and the snaps.
Oki expects the new Iris recognition technology to be made available commercially in March 2007.
Via: picktentacle